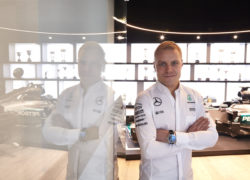 On paper the Sochi Autodrom in Russia is a track that was supposed to play to the strengths of the Mercedes given its power dominated layout. But predictions and form 'on paper' are often fickle. Despite this Ferrari stunned the F1 paddock on Saturday to lock out the front row of the grid for the first time since the 2008 French grand prix.
The catch though was the kilometer long run to the first braking point of the lap. It was here that Valtteri Bottas, starting third, made his move. It was fairly easy to conclude that a big part of the Russian grand prix story would come at the start. This is precisely where Bottas made it happen by acing his pull away.
As the Finn led Vettel, Raikkonen, and teammate Lewis Hamilton through the first lap the safety car was deployed for a clash between Renault's Jolyon Palmer and Haas F1's Romain Grosjean. While the safety car did neutralize the race for a handful of laps it had no real effect on the race. At the resumption of the race Bottas pulled away from Vettel and steadily built a gap of roughly four seconds. It was evident that at least Bottas' Merc was running well on the Ultra-soft compound tyre.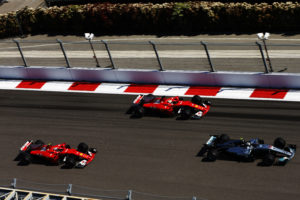 In contrast, Lewis Hamilton was never able to trouble third place man Kimi Raikkonen. Though he did briefly struggle with an overheating car the truth is that Hamilton was off the pace throughout the entire weekend. He did, after all, qualify half a second off Vettel's pole winning lap. But this is something we've seen from Hamilton before Baku in 2016 comes to mind.
While Vettel could do nothing about Bottas' pace in the first stint it was the second half of the race where the Ferrari's finally came alive. Their superior pace on the Super-soft tyre resulted in an easy third place for Raikkonen and a nail-bitingly close fight for the win for Vettel. While Vettel managed to get within six tenths of Bottas he wasn't able to attempt a pass.
In the famously unflappable style that has come to exemplify most Finnish racing drivers Bottas held his nerve to take his first grand prix victory. It's taken 81 starts for Bottas to win his first race but there will hardly be a more popular winner in the paddock.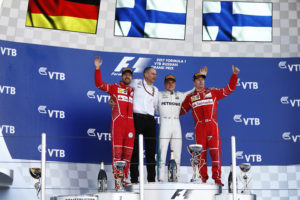 As Bottas, Vettel, and Raikkonen scored the top three positions it was Hamilton who finished in lonely fourth. While Red Bull's Daniel Ricciardo retired with rear-brake failure his teammate Max Verstappen trundled home in an anonymous fifth place a minute adrift. Sergio Perez and Esteban Ocon scored important points for Force India in sixth and seventh ahead of Nico Hulkenberg's Renault in eight. A late-race slow puncture forced Felipe Massa into the pits, which dropped the Williams driver down to ninth ahead of Carlos Sainz's Toro Rosso in tenth.
It was yet another forgettable day for McLaren as Fernando Alonso failed to start the race with a suspected battery issue. Elsewhere Williams' rookie driver Lance Stroll finished his first grand prix of the season in eleventh.
There will be some that will say that the Russian grand prix was a bit of a bore fest, and that there wasn't a whole lot of overtaking. But what was there in abundance was the sort of tension, at the head of affairs, which hasn't been seen in quite some time. And the good news is that it involves two teams that are very evenly matched. Two teams that will undoubtedly continue to trade blows right down to the wire.