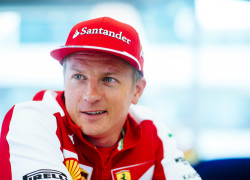 Ferrari's Kimi Raikkonen has topped the first free practice session at the Sochi Autodrom ahead of the Russian grand prix.
The first free practice session got underway in stunning clear conditions with a track temperatures hovering in the mid-thirties for the duration of the session. Local driver took over the Renault seat from Nico Hulkneberg but didn't last too long at his home event. The Renault ground to halt shortly after exiting the pitlane thus ending Sirotkin's run. While the car was returned to the pitlane the team were unable to get the Russian driver back out on track.
A brief red flag, caused by the engine cover flying off Esteban Ocon's Force India, in the second half of the start/finish strait. It was a short stoppage however as the session got back underway in little more than two minutes. Later on a loss of power brought Stoffel Vandoorne's session to a premature end.
But for lurid spin from Sebastian Vettel in the Ferrari there were no other noteworthy incidents in the session. Teams opted to run the soft tyre for the first part of the session before switching to the supersoft compound for the last 50 minutes of free practice. Pirelli have nominated the ultra-soft, super-soft, and soft compound tyres for the weekend.
Traditionally the Sochi Autordom shows little degradation on the tyres may be a straight forward one-stopper on Sunday. This was further evidenced by Bottas late session run on the soft tyres in which he consistently set lap times in the 1:40 range before dropping his times to high 1:39s.
Standings after Free Practice One: