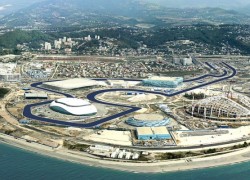 The organizers for the Russian grand prix have announced that a deal has been signed which will keep the circuit on the F1 calendar until 2025.
The extension to the deal comes on the back of securing a title sponsor for the grand prix, VTB Group. This means that the Russian government will no longer be footing the bill for the promoters fees. Russian GP promoter Sergey Vorobyov said it was "a complex deal, which combines the promoter contract.
"The important part is the title sponsorship contract for us, and there are a few other things that we are working on now with Chase [Carey, F1 chairman] and his team that I'm not ready to announce yet. Everything started with Bernie and is being concluded with Chase and his team."
The Sochi International circuit is still weighing the option of transforming the grand prix into a night race. The organizers are currently in the process of plotting the time and money that would be required for such an endeavour.
The 2017 Russian grand is scheduled for the 30th of April.