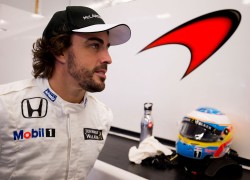 By now you will have heard, or read, that Fernando Alonso will run in this year's Indianapolis 500 behind the wheel of a McLaren Honda Andretti Indy Car.
In doing so he will miss the Formula 1 Monaco grand prix. The Monaco grand prix is one of the most attritional races on the calendar, which makes it, probably, McLaren's best opportunity to bag some much-needed points.
This move, by McLaren Honda, is indicative of their desperation to hold onto the considerable talents of Fernando Alonso going forward. And while this is an exiting announcement for motorsport fans and the Indy Car Series I have a bit of a problem with this.
But first some much needed context. There is little doubt in the heart and mind of any motorsport fan that Fernando Alonso is easily one of the most talented drivers of his generation. There is even less doubt that were he behind the wheel of front-running car he'd be giving Lewis Hamilton and Sebastian Vettel more than a hard time.
Alas, he finds himself in lackluster McLaren Honda that can barely make it to the chequered flag. Is this where a double world champion of Alonso's talents should be? The answer is a resounding and definitive no. But, and it is a rather significant but, at this moment in time it is where he finds himself and where he should be. He should be in the trenches, slumming it with his team. He should be leading by example and pushing as hard as he can. Instead, he's buggering off to an Indy Car race.
You could make the argument that he has the right be frustrated. And you'd be right but it still wouldn't change the fact that he is the center of a team, aside from Honda, that in many ways look to him for inspiration. What sort of message does it send to the hundreds of people who have invested every ounce of their being that their driver is off frolicking in the States?
Coincidentally, Jenson Button is McLaren's reserve driver. The same Jenson Button who unflinchingly stuck with Honda through season after season of difficulty.