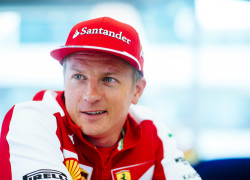 Ferrari's Kimi Raikkonen delivered a breathtaking lap to secure pole position for the 2017 Monaco grand prix.
The Finnish driver took pole position with a quickest time of 1:12:178 ahead of teammate Sebastian Vettel to secure Ferrari's second front-row lock out in three races. Raikkonen's pole position was the first in 128 races with his last coming ahead of the 2008 French grand prix.
While it was celebrations for Ferrari the Mercedes garage was not as joyful. Though Valtteri Bottas delivered with a fine third place Lewis Hamilton will start 13th after failing to advance beyond the second part of qualifying. While the Mercedes driver was caught out by yellow flags in the final sector of his last flying lap in Q2 the Brit had been struggling with setup for the majority of the weekend.
The two Red Bull's of Max Verstappen and Daniel Ricciardo rounded out the top five while Toro Rosso's Carlos Sainz underlined his credentials with the sixth quickest time. Force India's Sergio Perez, seventh, Haas' Romain Grosjean, eighth, Daniil Kvyat, ninth, and Renault's Nico Hulkenberg round out the top ten positions.
While Stoffel Vandoorne was slated to start tenth despite clouting the barriers in Q2 the Belgian driver will drop three places on the grid thanks to a penalty incurred in the Spanish grand prix. Up until the trip into the barriers Vandoorne had delivered a wonderful performance in qualifying. And underlining the fact that the McLaren chassis is a handy one was stand-in driver Jenson Button who qualified in the top ten. Unfortunately, as has been the story of McLaren's season the Brit will start from the back of the grid for penalties incurred due to changes to elements of the power unit.