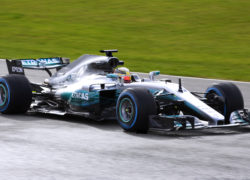 The Mercedes AMG Petronas F1 team has launched its 2017 challenger, the WO8, ahead of the 2017 Formula 1 season.
Ahead of the official online launch of Mercedes' car its drivers Lewis Hamilton and Valtteri Bottas put the new car through its paces at the Silverstone racetrack. However, the event was not an official test but rather a filming day for publicity purposes.
"The car feels wider, the front tires feel huge," said Hamilton of his first impression. "It's a big day for me. I've been waiting for this moment," added new signing Valtteri Bottas.
Immediately noticeable is the streamlined shark fin engine cover that the Merc is sporting. It is believed however that the team will run a larger version of the cover at official testing. Also noticeable are a pair of vents on the front of the car, ahead of the side pods. The nose of the car appears more rounded than its 2016 predecessor with the German team shying away from the snub-nose design already sported by Williams, Sauber, and Renault.
There is also the addition of more turquoise into the livery of the car. Toto Wolff revealed that it is due to Mercedes' new brand, Electric Intellegence, which will also be adapted to suit road cars.
What's more is that earlier in the day Mercedes customer team Force India's technical director Andy Green believes that the Mercedes engine has moved even further ahead than it was last year. "Mercedes HPP [High Performance Powertrains] have done a fantastic job over the winter and made another unprecedented step. It is impressive."
Before the conclusion of the official online launch Toto Wolff had some words of wisdom for new driver Valtteri Bottas ahead of his first time in the cockpit of a Silver Arrow. "It has an aura, the car stands for a lot of history for Mercedes Benz," he said.
Testing officially starts at Spain's circuit de Catalunya on the 27th of February.