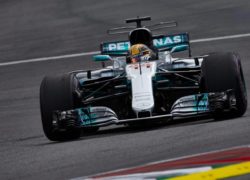 Mercedes driver and home-town favourite Lewis Hamilton scored the 67th pole position of his career ahead of the 2017 British grand prix.
There was little in the way of a challenge to Lewis Hamilton under the cloudy Northamptonshire skies as he imperiously took pole position by half a second. Ferrari's Kimi Raikkonen will share the front row of the grid with the Brit while Sebastian Vettel and Max Verstappen line up in third and fourth, respectively.
While Valtteri Bottas set the fourth quickest time in the final part of quali his five place grid penalty for a gearbox change means that he will start ninth. Meanwhile, Nico Hulkenberg punched above his weight and will start fifth in Renault. Equally impressive was McLaren's Stoffel Vandoorne. The Belgian driver will start ninth and has out-qualified teammate Fernando Alonso for the first time in 2017.
Saturday qualifying was already compromised for Red Bull's Daniel Ricciardo incurring a five place grid penalty for a pre-cautionary gearbox change. However, to add insult to extreme frustration the Aussie driver suffered a suspected Turbo failure in the first part of the qualifying session which will see him start 19th on Sunday's grid.
Qualifying Standings:
| POS | DRIVER | CAR | TIME | GAP |
| --- | --- | --- | --- | --- |
| 1 | Lewis Hamilton | Mercedes | 1m26.600s |  – |
| 2 | Kimi Raikkonen | Ferrari | 1m27.147s |  0.547s |
| 3 | Sebastian Vettel | Ferrari | 1m27.356s |  0.756s |
| 4 | Max Verstappen | Red Bull/Renault | 1m28.130s |  1.530s |
| 5 | Nico Hulkenberg | Renault | 1m28.856s |  2.256s |
| 6 | Sergio Perez | Force India/Mercedes | 1m28.902s |  2.302s |
| 7 | Esteban Ocon | Force India/Mercedes | 1m29.074s |  2.474s |
| 8 | Stoffel Vandoorne | McLaren/Honda | 1m29.418s |  2.818s |
| 9 | Valtteri Bottas | Mercedes | Penalty |  – |
| 10 | Romain Grosjean | Haas/Ferrari | 1m29.549s |  – |
| 11 | Jolyon Palmer | Renault | 1m30.193s |  – |
| 12 | Daniil Kvyat | Toro Rosso/Renault | 1m30.355s |  – |
| 13 | Carlos Sainz | Toro Rosso/Renault | 1m31.368s |  – |
| 14 | Felipe Massa | Williams/Mercedes | 1m31.482s |  – |
| 15 | Lance Stroll | Williams/Mercedes | 1m42.573s |  – |
| 16 | Kevin Magnussen | Haas/Ferrari | 1m42.577s |  – |
| 17 | Pascal Wehrlein | Sauber/Ferrari | 1m42.593s |  – |
| 18 | Marcus Ericsson | Sauber/Ferrari | 1m42.633s |  – |
| 19 | Daniel Ricciardo | Red Bull/Renault | 1m42.966s |  – |
| 20 | Fernando Alonso | McLaren/Honda | 1m30.600s |  – |