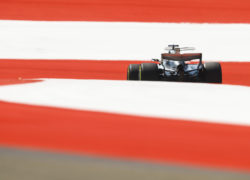 Mercedes' Valtteri Bottas has secured pole position by half a tenth over the Ferrari of Sebastian Vettel for the 2017 Austrian grand prix. While Lewis Hamilton set the third quickest time it's Kimi Raikkonen who will start third as the Brit drops down five places to eighth as a result of a gearbox change.
While Hamilton will start the race on the supersoft compound tyre, which will afford him a longer first stint, he must exercise extreme caution into turn one as he finds himself plumb in the middle of the infamous carbon fibre zone. He'll also have the likes of the two Force India's of Sergio Perez, seventh, and Esteban Ocon, ninth, to deal with. Daniel Ricciardo and Max Verstappen will start fourth and fifth respectively for Red Bull's home grand prix. Meanwhile, despite it being an obviously difficult car to drive Romain Grosjean will start sixth in the Haas. Carlos Sainz, in the Toro Rosso, rounds out the top ten.
At all costs Hamilton must get through the first corner in one piece if he is to have any designs on limiting the damage to championship leader Sebastian Vettel.
(Image courtesy of Pirelli Motorsport)