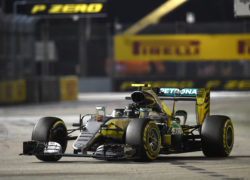 There are twenty-three corners crammed into the Marina Bay circuit and the Singapore grand prix delivered nearly as many talking points.
Nico Rosberg dominated Saturday qualifying while Red Bull's Daniel Ricciardo beat an off-colour Lewis Hamilton to the front row of the grid. It was a weekend in which Hamilton never looked comfortable or close to matching the pace of his teammate. He had no reason for it either, choosing to say that it just didn't come together at the important moments.
Haas F1's Romain Grosjean never made it to the start of the race as he suffered a brake-by-wire failure and start-line incident ended Nico Hulkenberg's race in a shower of carbon fibre before it even began. The Hulkenberg crash demanded a short safety-car period but because it was at the start of the race it had no impact on the race.
Nico Rosberg, who had a clean getaway from the line, re-started the race with Ricciardo, Hamilton and Raikkonen in close attendance. The Red Bull driver was able to keep the Mercedes of Rosberg honest with a gap of four seconds while Hamilton came under increasing pressure from Raikkonen in the Ferrari.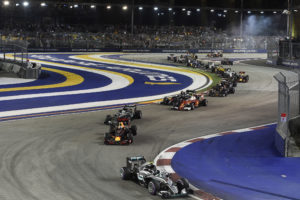 The dominance of Mercedes over the last while often disguises what finely tuned machines they are and just how much they flirt with the edge at most races. In Singapore both Rosberg and Hamilton were required to manage their brakes from early on. This and relenting pressure from Raikkonen forced Hamilton into a mistake that allowed the Finnish Ferrari driver to pull off a great overtake for third.
By the second round of pitstops Rosberg still held an advantage over Ricciardo while Raikkonen was holding off Hamilton for third. However, Mercedes opted to switch Hamilton to Plan B, which meant an extra stop. Ferrari opted to cover Mercedes and Raikkonen dropped to fourth behind Hamilton. The mistake however wasn't that Ferrari covered the Hamilton pitstop but the fact that they reacted too late. Had the pitted Raikkonen a lap earlier, or even on the same lap as Hamilton, he would've emerged in third place. But when a team is reacting rather than pre-empting you end up with a season, which, for Ferrari, has been littered with strategic errors.
While Rosberg stayed out Red Bull brought Ricciardo in for a fresh set of boots. The Aussie closed down a 26 second gap to the race leader but ultimately fell an agonizing 4 tenths of a second short. Behind Hamilton and Raikkonen Sebastian Vettel earned the driver-of-the-day tag by recovering from last to fifth overall. Max Verstappen finished sixth ahead of Fernando Alonso in seventh. Force India's Sergio Perez finished eighth ahead of Daniil Kvyat in ninth and Renault's Kevin Magnussen in tenth.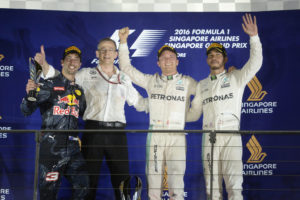 Since being demoted from the Red Bull team Kvyat has been missing in action and has often appeared demoralized after races. But the Singapore Gp felt like a turning point for him as he shone in a feisty battle with Verstappen, the man who took his place at Red Bull. F1 isn't like other sports where you can glean information from an athlete's body language or facial expression in the heat of battle. But as Kvyat fought tooth and nail against Verstappen, and kept him behind, the pride and passion were evident and very much welcome.
In the last few weeks Nico Rosberg has accomplished something he's never done before. He has taken first-time victories in Belgium, Italy, and Singapore. He heads the table by eight points with six race remaining. If he carries his methodical approach through the remainder of the season, and doesn't slip against Hamilton, he could accomplish something else he's never done before, the driver's world title.