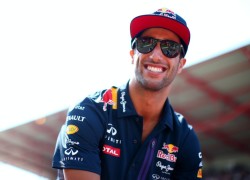 Australian racing driver Daniel Ricciardo is believed to have agreed to an extension to his contract with Red Bull Racing.
Ricciardo and the Red Bull team have been making news the last few weeks for all the wrong reasons. In Spain Ricciardo believed the team opted for the wrong strategy and cost him a shot at the victory. Two weeks later in Monaco the Aussie was left stranded in his pit box as the team scrambled to bring his tyres from the back of the garage. This time it cost Ricciardo a near certain victory.
However, all of the issues have seemingly been put aside with the announcement of Ricciardo's contract extension. It is believed that the driver has signed a deal that will provisionally keep him with the team until the end of the 2018 season.
Daniel Ricciardo is currently fourth in the race for the drivers world championship title.