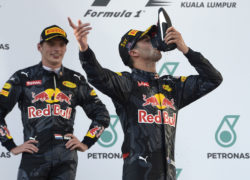 At the start of the Malaysian grand prix Mercedes were expected to dominate on a circuit tailor made to emphasize the best aspect of their racing car and they did. However, Formula 1 isn't called the most unpredictable sport in the world without reason. For as dominant as Lewis Hamilton was from pole position on Sunday the unpredictability of the sport hit hard.
As Hamilton scampered off into the lead of the race disaster struck immediately off the line for his Mercedes teammate Nico Rosberg. In a three-way battle for position into turn one Rosberg found himself pointing the wrong way down the track after being tagged by Sebastian Vettel. The Ferrari driver's race ended a corner later as he pulled over with a broken left-front suspension. For his too optimistic move Vettel has been given a three-place grid penalty for this weekend's Japanese grand prix.
While Rosberg began to make his way through the back, with remarkably no damage, Lewis Hamilton was well in control of proceedings. Despite some initial pressure from Max Verstappen and his alternate strategy there was never a true threat on Hamilton's lead. Such was the pace of the number 44 Mercedes that he could, seemingly at will, lap a second faster than anyone else.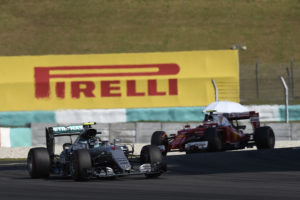 Still, not even the all-dominant Mercedes can ensure a definite victory. On lap 40 Lewis Hamilton aspirations of winning the race literally went up in flames as her Mercedes engine spectacularly expired on the start/finish strait.
After his retirement he made some comments to the media, which certainly fanned the flames. Something or someone, he said, doesn't want him to win the championship. The team and Hamilton later backpedalled on this comment by saying that the driver was referring to a "higher power." While Hamilton was rightly devastated with the failure it is inconceivable, and frankly absurd, that he would be sabotaged in any way. If not for any other reason than the fact that Mercedes would never want the image of an engine on fire associated with its brand. But there are many other reasons why this conspiracy theory is baseless. How do engineers ensure that an essentially new engine expire on demand? Sometimes the stars, on this case the cylinders, just don't align.
Though Hamilton has suffered a number of engine failures in 2016 they've all been confined to Friday or Saturday. While still impactful they haven't hurt as much as this one which is likely what has amplified emotions. In fact Hamilton's last retirement was eleven races ago in Spain after a collision with Rosberg. His last mechanical failure? The 2015 Singapore grand prix.
The show must go on and it did with a superb and popular victory for Red Bull's Daniel Ricciardo. The Aussie driver brilliantly held off his teammate Max Verstappen to take the fourth win of his career. Red Bull's one-two finish is the first for the team since the 2013 Brazilian Gp and snaps a run of 10 victories for Mercedes. In a further show of his class Ricciardo dedicated his win to Jules Bianchi who sadly passed away last year after a horrible crash at the 2014 Japanese Gp.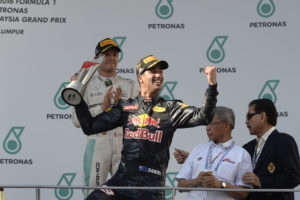 Despite a ten second penalty for causing a collision with Kimi Raikkonen Nico Rosberg was able to recover to third and takes a 23-point lead to the Japanese Gp. Ferrari's Kimi Raikkonen came home in fourth but was down on power for the majority of the race, which implies that the engine has some sort of damage. It could mean an engine penalty at some point perhaps this weekend in Japan or in Texas.
Valterri Bottas finished a solid fifth for Williams ahead of Force India's Sergio Perez. Fernando Alonso drove a brilliant race from last to finish seventh ahead of Nico Hulkenberg in eighth and teammate Jenson Button in ninth. Renault's Jolyon Palmer scored the first point of his career with tenth.
A 23-point lead for Rosberg seems a big one but with five race remaining it isn't a done deal. After the race in Baku he had a similar advantage and it took Hamilton three race to overcome it. If nothing else the Malaysian Gp proved that it's never over until the chequered flag drops.
(All images courtesy of Pirelli Motorsport)