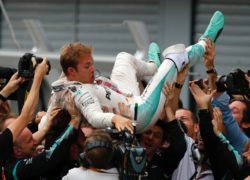 When Lewis Hamilton secured pole position on Saturday by half a second over his Mercedes teammate Nico Rosberg looked a beaten man. But little did he know that he would be gifted the lead of the Italian grand prix mere seconds after the red lights went out.
A mistake from Hamilton on the starting grid dropped him down to sixth and presented Rosberg the perfect opportunity to make it two wins in two weeks. Hamilton's trouble promoted the Ferrari's of Sebastian Vettel and Kimi Raikkonen into second and third but the red cars weren't a match for Rosberg's Mercedes.
As Rosberg strolled to career victory number 21 Hamilton recovered to second overall. The two Ferraris ran a two-stop strategy, as opposed to Mercedes' one-stop, and put on a descent show for the Tifosi. Though they were never in contention their third and fourth place finishes were not as far off Mercedes as many feared it would be. Both drivers reported that the engine upgrade introduced in Italy worked well.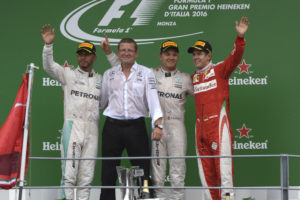 Red Bull's Daniel Ricciardo pulled off a stunning move into turn one on Williams' Valtteri Bottas finish fifth. It was a weekend of damage limitation for Red Bull on a circuit where it always going to be difficult for the Renault engine to stand up to the Mercedes and Ferrari. Valtteri Bottas delivered solid points for Williams in sixth while the second Red Bull of Max Verstappen came home in seventh. Force India's Sergio Perez had a quiet afternoon, which eventually netted him eighth place. Felipe Massa, who announced that he would be retiring at the end of the 2016 season, scored two points in ninth ahead of Nico Hulkenberg's Force India in tenth.
Though it didn't deliver a spectacular result the Italian Gp proved vital for Williams. The sixth and ninth place finishes by Bottas and Massa has allowed Williams to take back into fourth in the constructor's standings from Force India. This battle is likely to endure for the remainder of the season and has serious financial rewards for whichever teams comes out on top. Jenson Button, who will be taking a sabbatical in 2017, finished twelfth while teammate Fernando Alonso was fourteenth.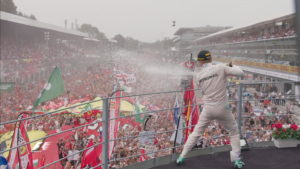 Rosberg's first Italian Gp win puts him only two points off the championship lead. Rosberg remarked in a post-race interview that the battle between himself and Hamilton will carry on for the rest of the season. Rosberg has done a perfect job since the summer break and, as it stands the battle has been as close as it's ever been on points. But it's on the track where we are still waiting to see that wheel-to-wheel battle between the two championship contenders.
The 2016 Italian grand prix wasn't the most exciting in recent memory. However, the scene from the podium, which stretches partly onto the start/finish straight, was something to behold. For as far as the eye could see were adoring racing fans waving their flags, cheering their favourites, and sharing their passion for this sport. That is why Monza can never be left off any F1 calendar.