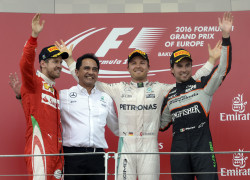 If you'd asked most people to point out Azerbaijan on a map they would probably struggle. If you then told them that its capital city Baku is going to host its first F1 race in 2016 it would possibly have been met with reluctant enthusiasm.
Nevertheless, on the edge of the Caspian Sea the Azeri organisers plotted a street circuit unlike any other. The combination of the stunningly high-speed section and incredibly tight section around the city's beautiful medieval architecture merged perfectly to highlight the strengths of Nico Rosberg's Mercedes. The German driver cleaned house in Baku by taking pole position, fastest lap and the race win in dominant fashion.
Rosberg led cleanly off the line and was never challenged as he completed the 51-lap race on a one-stop strategy. It yielded his fifth win of the season and a sizeable increase in his lead atop the driver's table. As faultless as Rosberg's weekend preceded so the opposite was true for teammate Lewis Hamilton. Seemingly out of sorts, Hamilton stuck his Merc in the wall on Saturday and confined himself to a tenth place starting position. An ERS (energy recovery system) issue disrupted his charge through the field. Thanks to the FIA regulation, which bans certain radio communications, Hamilton was left to figure out the setting himself. The Brit was able to eventually resolve the issue and set two blisteringly quick laptimes before cooking his tyres.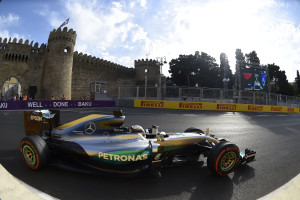 Behind race leader Rosberg Sebastian Vettel overtook Daniel Ricciardo for second. To cover the Red Bull stop Ferrari called Vettel into the pits. However, the driver overruled the pitwall and stayed out. It paid off ultimately as Vettel finished second without any realistic shot at victory.
Force India's Sergio Perez secured third to score his second podium in three races. Ferrari's Kimi Raikkonen ran third for nearly the entire race. The Finn stopped early on lap 8 and ran a 43-lap stint on the soft tyre. But a five-second penalty for crossing the pit-entry line and a late ERS issue meant he was unable to keep Perez at bay. Eventually Raikkonen, suffering with a bout of food poisoning, finished fourth. Lewis Hamilton finished a lonely and disappointed fifth ahead of Williams' Valtteri Bottas in sixth.
Both Red Bull drivers were forced onto two-stop strategies with overheating rear tyres and faded badly throughout the race. Daniel Ricciardo finished seventh ahead of teammate Max Verstappen in eighth. Nico Hulkenberg brought his Force India home in ninth while Williams' Felipe Massa scored the final point in tenth.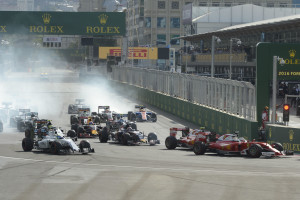 All expectations were that the safety car would appear several times throughout the race given the tight confines and close proximity of the walls. But all twenty-two drivers were exceptionally well behaved and there were no major incidents. In fact, only four drivers did not make it to the chequered flag. Toro Rosso has some investigating to do as both their drivers, Daniil Kvyat and Carlos Sainz, were forced to retire with suspension issues. Manor Racing's Pascal Wehrlein retired with brake failure as Fernando Alonso's McLaren was pulled into the garage with a gearbox failure.
Remarkably Rosberg had the same ERS issue as Hamilton but was able to rectify it by changing the right settings. This resounding victory increases Rosberg's championship lead to 24 points over Hamilton. But given that thirteen races remain on the calendar the race for the 2016 driver's crown is just warming up.
(All images courtesy of Pirelli Motorsport)