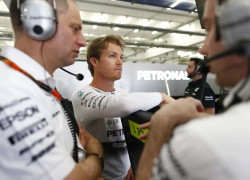 Mercedes driver Nico Rosberg topped the first free practice session ahead of Sunday's Chinese grand prix.
The session stumbled into life as cars trickled out onto the Shanghai International circuit which was holding a track temperature of 33 degrees Celcius. Mercedes' Nico Rosberg set the quickest time of the session, a 1:38:037, on the yellow walled soft tyre. Mercedes teammate Lewis Hamilton followed in second one and a half tenths adrift.
The Ferrari of Sebastian Vettel, Red Bull of Daniel Ricciardo, and sister Ferrari of Kimi Raikkonen rounded out the top five positions. Fernando Alonso was back in the McLaren for the first free practice session and ended the session twelfth overall. Alonso has not yet been given the all clear to race for the remainder of the weekend and is expected to undergo his second medical check-up of the weekend fifteen minutes after the conclusion of the first practice session.
The one and a half hour session was marred by two red flag periods brought about first by the Williams of Felipe Massa and secondly by the Renault of Kevin Magnussen. The first red flag was shown as a result of gravel on the circuit caused by the left-rear tyre on Massa's car letting go. Peculiarly, once the track re-opened Massa ventured back out only to experience the same delamination on the left-rear tyre. There is no word as yet to the cause of the delamination however.
The second red flag was a bit lengthier and required a bit more clean-up as the left-rear tyre on Kevin Magnussen's Renault let go halfway down the back strait. On the face of it the two incidents for Massa and Magnussen don't seem to be related. It was the McLaren teams opinion that Magnussen's issue might have been caused by debris on the circuit.
The tyre compouds available this weekend are the medium (white), soft (yellow), and supersoft (red).