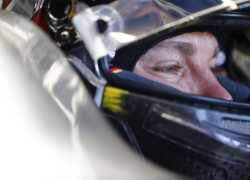 Mercedes' Nico Rosberg topped the timing sheet at the end of the first free practice session for the 2016 Belgian grand prix.
The Formula 1 season resumed after its summer break with the legendary Spa-Francorchamps circuit bathed in glorious sunshine. Mercedes driver Nico Rosberg set the quickest time of the 90 minute session with a time of 1:48:348 ahead of teammate Lewis Hamilton who set a time of 1:49:078. Both Mercedes drivers set their quickest time of the session on the red-walled supersoft tyre.
Ferrari's Kimi Raikkonen set the third quickest time at a 1:49:147 but only ran the yellow-walled soft tyre. Sergio Perez was fourth for Force India as the second Ferrari of Sebastian Vettel rounded out the top five.
Several drivers including Red Bull's Daniel Ricciardo ran the Halo head protection system in an installation lap as further development ahead of the introduction of the system. Pirelli further offered teams two prototype set of tyres to test in preparation for 2017. The test tyres were focused on the construction of the tyre as opposed to outright performance.
Renault's Jolyon Palmer lost the last twenty minutes of the session with a technical issue. However, McLaren's Fernando Alonso failed to set a lap time as his car suffered a water leak early in the session. It has been confirmed that Lewis Hamilton will incur a 15 place grid penalty after changing two elements his power unit.
Final Standings Free Practice 1:
| | | | | | |
| --- | --- | --- | --- | --- | --- |
| Pos. | Driver | Team | Best Time | Gap | Lap |
| 1 | Nico Rosberg | Mercedes | 1:48.348s | – | 27 |
| 2 | Lewis Hamilton | Mercedes | 1:49.078s | 0.730 | 25 |
| 3 | Kimi Raikkonen | Ferrari | 1:49.147s | 0.799 | 24 |
| 4 | Sergio Perez | Force India | 1:49.274s | 0.926 | 23 |
| 5 | Sebastian Vettel | Ferrari | 1:49.768s | 1.420 | 19 |
| 6 | Daniel Ricciardo | Red Bull | 1:49.782s | 1.434 | 24 |
| 7 | Max Verstappen | Red Bull | 1:49.865s | 1.517 | 24 |
| 8 | Nico Hulkenberg | Force India | 1:50.088s | 1.740 | 21 |
| 9 | Valtteri Bottas | Williams | 1:50.394s | 2.046 | 31 |
| 10 | Esteban Gutierrez | Haas | 1:50.583s | 2.235 | 21 |
| 11 | Romain Grosjean | Haas | 1:50.899s | 2.551 | 18 |
| 12 | Felipe Massa | Williams | 1:51.122s | 2.774 | 28 |
| 13 | Marcus Ericsson | Sauber | 1:51.125s | 2.777 | 16 |
| 14 | Carlos Sainz | Toro Rosso | 1:51.424s | 3.076 | 17 |
| 15 | Felipe Nasr | Sauber | 1:51.768s | 3.420 | 19 |
| 16 | Esteban Ocon | Manor | 1:51.787s | 3.439 | 26 |
| 17 | Daniil Kvyat | Toro Rosso | 1:52.308s | 3.960 | 19 |
| 18 | Jenson Button | McLaren | 1:52.407s | 4.059 | 18 |
| 19 | Pascal Wehrlein | Manor | 1:52.837s | 4.489 | 23 |
| 20 | Kevin Magnussen | Renault | 1:53.053s | 4.705 | 20 |
| 21 | Jolyon Palmer | Renault | 1:53.089s | 4.741 | 20 |
| – | Fernando Alonso | McLaren | – | – | 3 |