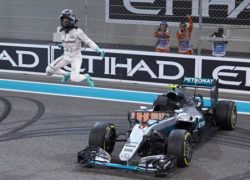 Since that first weekend of the F1 season, back in mid-March, there has been a menacing steeliness about Nico Rosberg that seemed unbreakable. This steeliness, along with astonishing form, has, after eleven seasons and 206 grand prix, made Nico Rosberg the 2016 Formula 1 World Champion.
The season-ending Abu Dhabi grand prix delivered a tension filled race from beginning to end. Lewis Hamilton, starting on pole, needed to win the race with Rosberg in fourth to take the title. Unfortunately for Hamilton Rosberg stayed in a close second for the majority of the race and as would be expected Hamilton tried all he could to win the championship. In fact, Hamilton attempted to back his teammate into the clutches of Sebastian Vettel and Max Verstappen by deliberately slowing his pace. Less than two seconds covered the top four by the chequered flag but just as in the other twenty races of this season Rosberg held his nerve and finished second.
Ultimately, Hamilton won the Abu Dhabi Gp ahead of Rosberg and a late-charging Vettel. Meanwhile, the two Red Bulls of Verstappen and Ricciardo finished fourth and fifth, respectively, while Raikkonen brought his Ferrari home in sixth. Nico Hulkenberg and Sergio Perez' seventh and eighth capped a tremendous season for Force India who finished a superb fourth in the constructor's championship. In his final F1 race Felipe Massa finished ninth ahead of McLaren's Fernando Alonso. Jenson Button's 17-year F1 career, sadly, came to a premature end with the failure of a wishbone on the right-front suspension.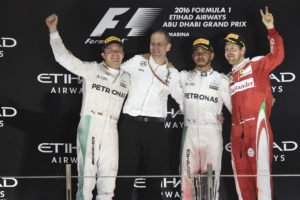 There will be those who question whether Nico Rosberg deserves to be the 2016 drivers champion but the answer to their question is an easy yes. He's won nine grand prix this season and most vitally, delivered stunning qualifying performances under extreme pressure. His ability to absorb the pressure and not buckle under it has been the key to Rosberg's success in 2016. In 2014, his inability to handle pressure from Hamilton was there for all to see as he buckled first in Russia and then in Italy and Texas while leading. He went away with the aim of coming back stronger, and he did. His heightened mental strength allowed him the ability to focus on one race at a time. While it seems an easy enough concept the mental strength required to successfully accomplish it, under extreme conditions, cannot be underestimated and must be commended.
Some will crow about unreliability, specifically Hamilton's failure in Malaysia. But unreliability has been a part of the sport for as long as it's been in existence and it will be going forward. It's as much a part of a grand prix season as changeable weather or safety cars. In context, the 'unreliability-argument' only goes so far though. For example, while the headlines after the Malaysian Gp screamed of Hamilton's truly unfortunate failure it didn't focus much on Rosberg's drive in the same race. After all Rosberg was dead last after a collision with Sebastian Vettel and recovered brilliantly to ultimately finish third. What's more Hamilton's 'finger-trouble' off the start-line in Japan and Italy, and the crash in Baku, that prompted a gearbox penalty, were all his own doing. The simple, but telling, fact is that Hamilton was simply out-performed by Rosberg.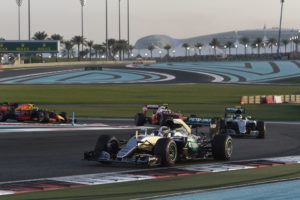 Any world championship triumph depends on the consistency of the eventual winner and the proof of Rosberg deserved success is in the numbers. Of the 1268 laps in the 2016 season the German driver has spent 957, or 75%, in the top three. In addition, in all of the 21 races he never qualified outside the top two and only spent thirteen laps outside the top ten in the entire season.
While all these numbers reveal an emphatically imposing season the only number that Nico Rosberg will care about is the 285 points which have made him the 2016 Formula 1 World Champion.