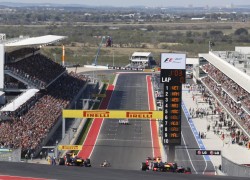 The old saying goes that everything is bigger and better in Texas and it's hard to argue with it. The Circuit of the Americas, introduced in 2012, is already a favourite on the F1 calendar and in 2015 has the potential to crown a champion.
The Circuit of the Americas, designed by Herman Tilke, gets a resounding stamp of approval from all the drivers on the grid and is easily the best of the newer tracks on the F1 calendar. "The track has some special parts, especially the first sector and the uphill turn one. You can take a few different lines through the corner and you can brake really late for it, which makes it a good place to overtake," says Force India driver Sergio Perez.
In fact the entire first sector is a combination of elegant flowing high-speed corners of which turns three through eight are reminiscent of Silverstone's Maggots-Becketts complex. A long back strait and relatively slow final section of corners make up the rest on the 5.5 km circuit.
However it seems, at best, doubtful that we'll get to see F1 cars at full-tilt around this circuit as the weather predicts for rain on Friday and Saturday. The forecast on race day could see a break in the clouds. Should there be an opportunity for dry running Pirelli have made the medium (white-walled) and soft (yellow-walled) compound available this weekend.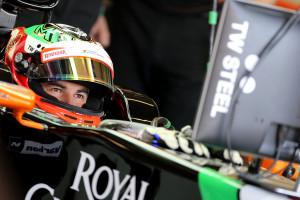 There will be considerable attention on all cars running the Renault power unit this weekend. The French manufacturer is bringing its biggest, and highly anticipated, upgrade, to the race weekend amid intense speculation about its future in the sport.
Several weeks ago Renault signed a letter of intent to purchase the Lotus F1 team but hasn't made a move on the financially beleaguered team since then, at least not publicly. Not only that, but an improved performance from the power unit may also serve as the perfect platform for Red Bull make its way back to running Renault power in 2016.
As it stands, Red Bull has no engine to put in the back of their 2016 car. At this stage the 2016 Red is likely deep into its development cycle which will make pulling out of the sport very costly. Yes, the divorce between Red Bull and Renault resulted in both parties airing dirty laundry and some rather testy statements about incompetence were thrown about. But a categorical no from Mercedes and a more than reluctant Ferrari has put the Austrian team in quite a mess.  Besides, there won't be any hard feelings between Red Bull and Renault after all just look at the splendidly semi-restored relationship between Fernando Alonso and Ron Dennis.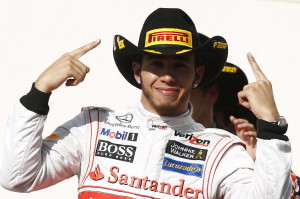 There is also another matter that will take centre stage in Texas as Lewis Hamilton bids to become a three time Formula 1 world champion. The challenge from teammate Nico Rosberg has been severely diminished due to a couple of reliability issues for the German. As if Rosberg's retirements haven't been nasty enough the cruel irony is that he will probably help Lewis Hamilton claim his third driver's title this weekend.
Mercedes shouldn't be troubled in Texas which will leave its two drivers to battle it out. If Rosberg finishes second to his teammate and keeps Ferrari's Sebastian Vettel at bay Hamilton will be crowned champion.
Now we know that stranger things have happened in Formula 1. Just think about Hamilton's first championship triumph in most dramatic fashion at the 2008 Brazilian grand prix. By no means should any possibility ever be ruled out in Formula 1.
Championship Permutations
Hamilton is champion if…
Hamilton 1st Vettel 3rd or lower
Hamilton 2nd Vettel 6th or lower  Rosberg 3rd or lower
Hamilton 3rd Vettel 7th or lower  Rosberg 4th or lower
Hamilton 4th Vettel 9th or lower  Rosberg 5th or lower
Hamilton 5th Vettel 10th or lower  Rosberg 6th or lower