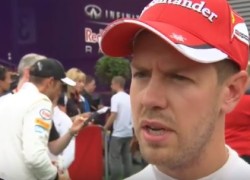 Ferrari driver Sebastian Vettel dominated the timing sheets at the end of the third free practice session ahead of Sunday's Singapore grand prix.
The hour long session came to its conclusion with Sebastian Vettel and teammate Kimi Raikkonen in the first two position for the Ferrari team. As if to underline their pace from Friday's practice sessions both Red Bull drivers in the form of Dannil Kvyat and Daniel Ricciardo set the third and fourth quickest times respectively.
The first of the Mercdes was Lewis Hamilton in fifth position ahead of teammate Nico Rosberg. However, it is expected that Mercedes will literally and figuratively 'turn up the wick' when it comes time for the all important qualifying session. McLaren's Fernando Alonso set the seventh fastest time overall whilst teammate Jenson Button was thirteenth fastest. Williams didnt inspire a great deal of confidence with their pace as Valtteri Bottas managed only the eleventh fastest time overall and Felipe Massa was down in fourteenth place.
Nico Hulkenberg and Sergio Perez were expected to show a good turn of pace in their B-spec Force India but may be saving their best for quali. The two drivers ended the session twelfth and sixteenth respectively.
Final free practice three standings: