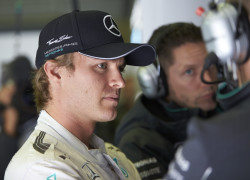 Mercedes driver Nico Rosberg says he is at a disadvantage this weekend by having to use an "extremely old" engine.
When the German team introduced its upgraded power unit at the Italian grand prix Nico Rosberg was forced to abandon the unit in the back of his car. The engine was believed to have been contaminated by a coolant leak and forced the 'scrapping' on the unit.
It means that the current power unit fitted to the number 6 Mercedes has done a lot of mileage. As a result Rosberg may not be able to push the power unit as hard as Hamilton may be able to on his car. It lends itself to a disadvantage for the in-form Rosberg but he hasn't given up on getting that elusive third consecutive win.
"We know it's going to be difficult because I have an extremely old engine as a result of having lost my fourth engine for the year, so I have a lot of miles on it and that's definitely costing me straightline speed," said Rosberg."It's going to be a difficult weekend as a result. But I just have to go quicker in the corners. "The engine is very, very high mileage, very old, and this track is an engine track.