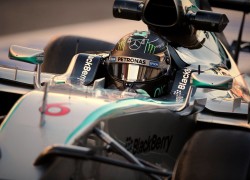 Mercedes driver Nico Rosberg set the pace in the second free practice session in Mexico.
Conditions looked slightly better than the first free practice session which started with a damp circuit. However, on his first lap of the afternoon Toro Rosso driver Max Verstappen clouted the barrier and in the process destroyed the left front suspension of his car. This prompted a short red flag period in order for the stricken car to be recovered.
A second, albeit short, red flag session came about as the Lotus of Romain Grosjean grinded to a halt with a suspected gearbox issue. Earlier in the session Williams' Valtteri Bottas was lucky to only lose his front-wing in a high speed collision with the barrier.
Despite an improvement in laptimes from the tyres the circuit conditions remained tricky with several drivers running wide, spinning and having to compensate for extremely low grip.
Halfway through the session spots of rain were visible and intensified as it ten minutes to go on the clock. Nico Rosberg set the most laps, at thirty-six, in his Mercedes and was followed closely on the timing sheets by Red Bull's Daniil Kvyat and Daniel Ricciardo.
Final Free Practice Two Standings: