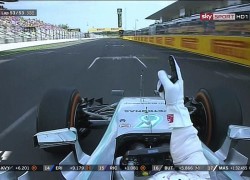 As it turns out the only show that the Japanese grand prix put on was to demonstrate just what a difference seven days could make.
In Singapore Mercedes were shockingly off the pace and never got close to troubling the top step of the podium. It now appears that this performance was a merely an anomaly. With a distinct and obvious pace advantage in practice and a front row lock-out in qualifying both Lewis Hamilton and Nico Rosberg returned the status quo of Formula 1 in 2015.
Nico Rosberg lined up his Mercedes in pole position alongside Lewis Hamilton for the start of the race. The German's advantage, however, would last only a handful of seconds as Hamilton derisively pushed Rosberg aside to take the lead of the race into turn two. Ferrari's Sebastian Vettel slotted into second, after starting fourth, while Rosberg slipped down to fourth behind the Williams of Valtteri Bottas.
The race seemed to settle early on as Hamilton extended his lead over second-placed Vettel who had no answer for the pace of the Mercedes. It appeared for all as Hamilton was cruising his way to victory but the driver confirmed that he had to cope with a tyre issue during the race. "At one stage I had such a vibration it was giving me a headache and everything was blurred," said Hamilton.
Even so, Hamilton lorded his unbeatable pace over the entire field on occasion lapping more than a second faster than anyone else. Nico Rosberg, through pitstop strategy and a pace advantage, was able to recover to second place by the end of the 53 lap race only two seconds ahead of third place finisher Sebastian Vettel.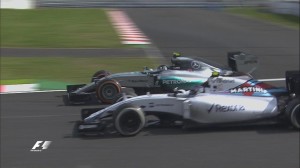 In the end Rosberg finished nearly twenty seconds adrift of his race-winning teammate and has seen the points gap extend to 48 points. It isn't yet mathematically impossible for Rosberg to take the driver's crown but it is becoming increasingly unlikely that he will do so.
Naturally, there are many variables, such as reliability, that could factor into the final results. But as was evidences again in Japan in a straight out wheel-to-wheel fight with Hamilton Nico Rosberg just doesn't have what it takes to beat his double world champion teammate.
Behind the top three finishers Ferrari's Kimi Raikkonen used pitstop strategy to undercut the Williams of Valtteri Bottas and take fourth place on the day. Despite finishing in fifth Bottas would've been disappointed with the pace of his car considering that he was overtaken by both Rosberg and Raikkonen, on the hard tyre, while running on the effectively quicker medium compound tyre.
The sister Williams of Felipe Massa had a slight coming together with Red Bull's Daniel Ricciardo off the start line. Both drivers suffered punctures which weren't able to recover from and eventually finished the race in fifteenth and seventeenth respectively. The only retirement of the race came in the form of Sauber's Felipe Nasr with a one lap remaining.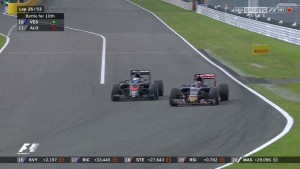 Force India's Nico Hulkenberg finished a solid sixth ahead of the Lotus duo Romain Grosjean and Pastor Maldonado. It was an impressive showing by the Lotus drivers considering the financial difficulties the team are currently facing. Toro Rosso's ever impressive rookie pairing of Max Verstappen and Carlos Sainz finished ninth and tenth. It wasn't a clean run to the flag for Sainz however who smacked the bollard coming into the pitlane destroying his front-win the process.
In eleventh place and a lap down is where McLaren's Fernando Alonso finished his Japanese GP much to his displeasure. Owing to a dreadfully uncompetitive season the Spaniard's frustration seemed to boil over. As he was mugged for position on the straights he compared his Honda engine to that of a GP2 car; there's a bit of amusement in there if you squint really hard. The good news for Alonso is that it can hardly get any worse than it is right now.
The days of being a McLaren driver are just a fond memory for Lewis Hamilton now as he stands on the cusp of becoming a three-time Formula 1 world champion. The victory is Japan is the 41st of his career and brings him level in the number of wins with his great hero Ayrton Senna. It's never wise to compare drivers of different eras so we won't. Instead we are safe in the knowledge that in this moment Lewis Hamilton is well and truly the man.