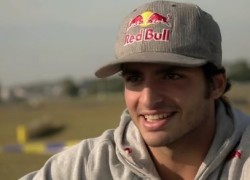 Toro Rosso driver Carlos Sainz set the quickest time in a rain-hit first free practice session in Japan.
Roughly and and a half hours before the start of the first free practice session in Japan the heavens opened and drenched the Suzuka circuit. As usual it did nothing to dampen the spirit of the Japanese fans who turned up in large numbers to get a glimpse of Formula 1.
The initial part of the session remained quiet as team waited out the worst of the condition. As the predication for the rest of the weekend looks decidedly more sunny there wasnt a whole to gain by running in the wet conditions. However, the weather around these parts has been known to be quite volatile in the past and whatever the prediction there is always a chance of inclement weather.
As a result all cars eventually ventured out onto circuit which dried enough towards the end of the session for intermediate tyres to be used. Ferrari's Kimi Raikkonen set the most laps at fifteen followed closely by Mercedes' Nico Rosberg with fourteen laps.
Spanish driver Carlos Sainz set the fastest time of the one and a half hour session ahead of Red Bull's Dannil Kvyat. Nico Rosberg, Sebastian Vettel and Lewis Hamilton completed the top five.
One of the biggest stories, stemming from yesterday, was that the Lotus team had been locked out of its hospitality area as a result of some "unpaid bills." It's made for a rather uncomfortable start to the weekend for the team and its drivers whose engineers had to stop off at a famous burger joint for breakfast. Here's hoping this issue is resolved before long.
Final free practice 1 standings: