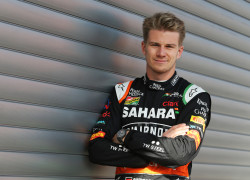 German Formula 1 driver Nico Hulkenberg says that he has "good options" for 2016.
The 24 Hour Le Mans winner is F1's perennially overlooked but highly rated driver but despite this believes that he has a few options to consider for 2016. "There are a few good options out there, and I'm pretty confident I can put something good together and that I'll be here next year in a good car," says Hulkenberg.
Hulkenberg's F1 career started with Williams in 2010 before moving to Force India for the 2011 and '12 seasons. He spent the 2013 season as a Sauber driver before returning to Force India at the beginning of 2014. Hulkenberg's year at Williams wasn't a stellar one by any means but a return to the Williams team isn't out the question. The British team, who holds the option to extend Valtteri Bottas' contract, has not yet announced its driver line-up for 2016.
The 28-year-old was linked with a possible to Ferrari but never expected to make the move to the Italian team.