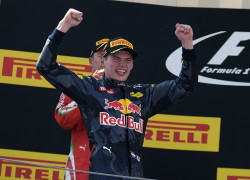 It's old and outdated but never has it been more true – to finish first, first you must finish.
The two front-row starting Mercedes' of Lewis Hamilton and Nico Rosberg know this saying well but putting it into practice became entirely too difficult. The teammates dramatic collision in turn four put them both out of the race on lap one.
Rosberg snatched the lead from pole starting Hamilton but had started the race in the wrong engine mode. While he fiddled with his steering wheel Hamilton saw his opportunity to regain the lead of the race and attempted to pass the German going into turn four. Rosberg, down roughly 17kph in his setting, saw the move and moved over crowding Hamilton. The reigning champion took the grass, lost control of his car and slammed into Rosberg.
The incident was investigated after the race but no penalties were forthcoming.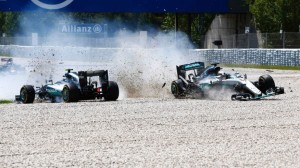 From the camera shots you could say that Rosberg's move was a tad over-aggressive. But because Hamilton only had his front-wing alongside the rear-wheel of Rosberg's car the number 6 Merc was within his right to make the defensive move. But come what may this is one of those incidents that will divide opinion and having each driver's fans blaming the other as the guilty party.
Although this incident was dramatic it blew the race wide open. Between Red Bull and Ferrari it delivered a Spanish Gp that will be remembered for decades. Daniel Ricciardo now led the way from newly promoted teammate Max Verstappen and the fast-starting Toro Rosso of Carlos Sainz.
The Ferrari's of Sebastian Vettel and Kimi Raikkonen made relatively quick work of Sainz and were now turning a quicker pace that the two Red Bulls ahead. Ricciardo pitted first on lap 11, Verstappen and Raikkonen a lap later and Vettel on lap 15.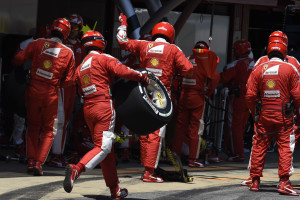 Though Ricciardo and Vettel still led on the road after the first round of pitstops they strangely opted for a three-stop strategy. The Red Bull and Ferrari stopped again on 28 and 29 respectively relegating Ricciardo and Vettel to third and fourth. After their third visit to the pitlane Vettel was able to jump Ricciardo's Red Bull setting up a great duel between the two for the final step of the podium. The Aussie tried a couple of bold moves to snatch third from Vettel but his left-rear tyre gave up with one lap to go. Such was the frontrunners pace advantage that Ricciardo was able to pit and still finish fourth.
Up ahead Verstappen and Raikkonen successfully ran a two-stop strategy. By now Max Verstappen had already become the youngest driver to lead a race and was now facing severe pressure from Raikkonen for the win. For twenty laps Raikkonen hounded the back of the Red Bull, half a second away from victory. But the 18-year-old soaked up the pressure, never put a wheel wrong and delivered a superbly controlled drive.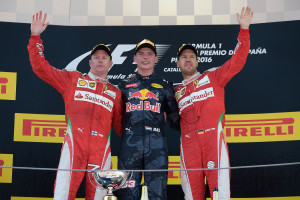 Sebastian Vettel made it a double podium for Ferrari in third ahead of Ricciardo. Much further down the road Valtteri Bottas brought his Williams home in fifth ahead of am impressive performance from Carlos Sainz in sixth. Sergio Perez finished seventh in his Force India ahead of Felipe Massa's Williams in eighth. Jenson Button scored two points for McLaren in ninth while teammate Fernando Alonso was forced into retirement. Dannil Kvyat scored the final point on offer in the Toro Rosso.
The 15th of May 2016 could've been just another day that hosted just another Spanish grand prix. Instead it's been etched into the history of Formula 1 to be forever remembered as the day that 18-year-old Max Verstappen came of age.