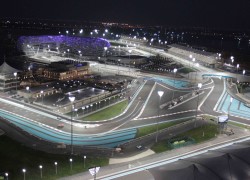 At the very heart of its multi-billion rand, globe-trotting and glamorous veneer lays the ultimate goal – to be the Formula 1 world champion. Since 1950 every driver, team and engineer has embarked on the quest to be a part of the Formula 1 legend. In this iconic sport nothing is more important and nothing is pursued with a greater determination than to be the best.
What are the chances that as the first ever Formula 1 world champion Giuseppe 'Nino' Farina held aloft his title clinching trophy that he dreamt of how this sport would grow to enthrall and fascinate the world, turn into a religion for many, and race in countries and venues as far-off as deserts of Abu Dhabi. So it is that we come to the conclusion of the 2014 season in the twilight of the Yas Marina circuit. A season that has seen ground-breaking technology and will be remembered for a fierce battle between teammates.
Two short years ago Lewis Hamilton went through, arguably, the most difficult period of his Formula 1 career. The 2012 season at McLaren was marred by too many unfortunate performances, an on-track clash with his teammate, and the separation from those who held his best interests at heart. The move to Mercedes coincided with the metamorphosis of Lewis Hamilton. A more mature and re-focused Hamilton dedicated himself to the Mercedes cause and he appeared to be re-invigorated by the ability to stretch his wings and sever the near lifelong tie to McLaren.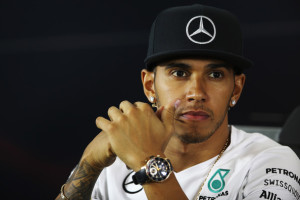 In 2014, his father re-emerged in the pit garage; he moved away from manager Simon Fuller. Now he had people in his corner concerned with only his well-being and not that of the brand Lewis Hamilton. This shift has had a monumental effect both on and off the track. Where in the past Hamilton was extremely self-deprecating he now took the difficulties in stride and learnt from them. Gone was the Lewis Hamilton that succumbed, slightly, to the pressure of Formula 1. In his place is a driver and man whose maturity has allowed him to reach an ominous level of focus and determination. A level easily high enough to make him a double world champion at the end of the 2014 Abu Dhabi grand prix.
Up until this season Nico Rosberg's F1 career has been solid, blotted with a few shining moments, but nothing quite spectacular. Truth be told he hasn't been outlandishly brilliant this season either. What he has been is quick and devastatingly consistent. Ever the opportunist Rosberg has proven to be a formidable opponent to Hamilton. It isn't something that many would've predicted given Hamilton's near god-like reputation in some circles. Taking the title is a tad more difficult for the German than it is his teammate. He needs a few things to go his way and not Hamilton's this weekend. Maybe it will, maybe it won't but you can bet your bottom dollar that if the opportunity beckons Nico Rosberg will seize it consummate ease.
There are potential stumbling blocks in both these driver's path. Lest we forget the Mercedes has had its fair share of issues throughout the season. Unreliability is surely one of the cruellest mistresses of the sport and we pray to the F1 Gods that no such travesty has the chance to destroy what should be rousing end to the season.
Then there is the two Williams shaped anomalies. At the very least both the Williams' will feature heavily in qualifying and from there should be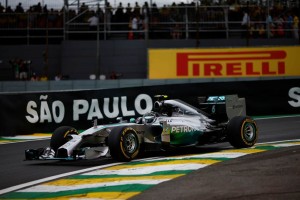 able to be quite a nuisance in the race too. The Yas Marina circuit's long straights are tailor-made to the Williams' super-slippery-mega-fast-in-a-straight-line aerodynamics. McLaren's racing director Eric Boullier believes that their "downward spiral has ended" and though they shouldn't be troubling the Mercedes they are embroiled in a fight with Ferrari for fourth place in the constructor's standings.
The never-say-die mentality of this team has allowed for a steady improvement over the last few races. This improvement will culminate with a "new aerodynamic concept" package, to run this weekend, from the design table of new chief engineer Peter Prodromou.
This has been a mega season. Yes, it's been bossed by one team but look at it from a different perspective. It's been dominated by near inconceivable technological advances and we can honestly say that at the end of it all whoever walks away as the champion will do so on the back of some of the finest driving for some time and in the midst of an intricately wicked psychological war that fans have relished. This is what it all comes down to, what this majestic, passion-fuelled sport is all about – the quest to be the best, to be number one, to be the world champion.