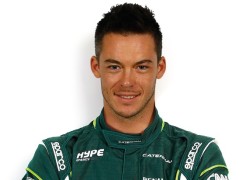 Le Mans 24 Hours winner Andre Lotterer has confirmed that he has been offered a Caterham seat for the Abu Dhabi grand prix.
The Caterham team, currently under administration, has missed both the Austin and Brazilian grand prix but has confirmed their presence at the season finale in Abu Dhabi. It is thanks to a 'fan-funded' initiative which has seen raise enough finances to compete at the final race of the season.
Lotterer stepped into the Caterham cockpit at the Belgian grand prix earlier this seemed but appears uncertain about the possibility of repeating it this weekend. "Caterham wants me to race in Abu Dhabi but I am not sure if I will take up the offer," he said.
As it stands, it is assumed that Japan's Kamui Kobayashi will fill the second Caterham seat.