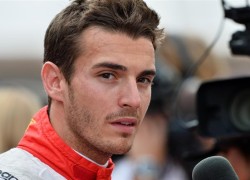 The FIA has revealed more details about Jules Bianchi's crash during the Japanese grand prix.
Formula 1 race director Charlie Whiting went through CCTV footage taken a handful of minutes before the Marussia driver's crash.
"There is a dryish line. As the rain has intensified, a little bit of water creeps on to the drier line, and as cars go a little bit wide there, you see that Adrian got onto that and lost control," Whiting explained.
"He touches that slightly wetter bit of track, and he is behind Jules at this point. When he hits that slightly wetter bit of track, he loses control and spins. A lap later, with double waved yellow flags being displayed, Bianchi hits the same bit of water."
Whiting noted that Bianchi had tried to correct the slide and in so doing over-corrected his car and hurtled off the circuit.
"You can see Jules doing something similar [to Sutil]. He hits the same bit of water, but there is a slight difference – he does not spin like Adrian did. He corrects and goes off at a slightly different trajectory."
Whiting further confirmed that mechanical failure was ruled out a possible cause for the crash and stipulated that it was not yet possible to determine the speed on impact.