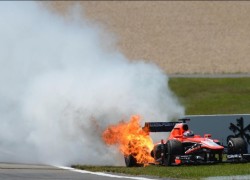 Starting with a hazardous Australian Grand Prix with ever changing weather conditions to a controlled race in Hungary we've had everything from tyre explosions to loose wheels, pitlane accidents, cars on fire and controversy galore. The 2013 F1 season has been a thrilling, wild ride for teams, drivers and fans alike.
With ten races behind us, it's time to look at the season so far and how things have been shaping up.
Here is our F1 2013 Mid Season Review ahead of what is set to be an tumultuous second half of the season.
Red Bull Racing – 277 points
Sebastian Vettel – 172 points, Mark Webber – 105 points
Red Bull is still the team to beat and are the only team to really maximise their results every race so far this season. Leading the championship with 60 points over Mercedes in second place, it's bound to be business as usual for the team following the break. Sebastian Vettel is sitting pretty in the drivers' championship too – 38 points ahead of his nearest rival, Kimi Raikkonen in second place.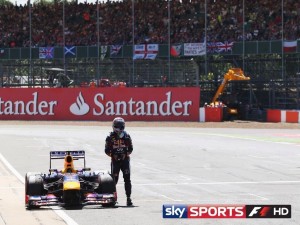 Vettel has raced all out so far this season – even defying team orders to score an extra 6 points – and remains on track for his 4th world championship.
Red Bull have an incredibly quick car – perhaps the quickest on the grid – and have remained incredibly consistent but have suffered like the other teams with tyre degradation issues and saw Vettel retiring from the British Grand Prix with mechanical failures. Vettel however will be very hard to beat going forward and his rivals know it.
Mark Webber, who announced that he will be leaving F1 at the end of the season, has had a more inconsistent – and really unlucky – season. Webber has had no wins yet this season but you can be sure that he'll be looking to add to his nine career wins before he bows out of F1. His frustration became very clear in Malaysia when Vettel defied team orders to pass Webber for what would have been his only win this season.
Mercedes – 208 points
Lewis Hamilton – 124 points, Nico Rosberg – 84 points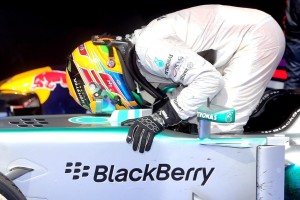 With Niki Lauda and Toto Wolff assuming high profile positions and Lewis Hamilton joining the Brackley based team, all eyes were on Mercedes even before the season got underway.
Nobody expected Hamilton to be challenging for race wins in his first season at Mercedes, but he was on the podium within two races and took his first race win at the Hungarian Grand Prix.
Team mate Nico Rosberg has already recorded two race wins so far this season and continues to impress.
Mercedes has made quite a turn-around this season and their prospects are not looking bad at all. With a 69 point deficit to championship leaders Red Bull, it seems unlikely that they will challenge for the championship though.
Ferrari – 194 points
Fernando Alonso – 133 points, Felipe Massa – 61 points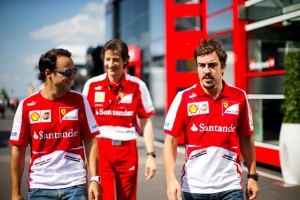 A mid season review of the Ferrari team's performance so far this year, seems all too familiar. Ferrari started off really well with both drivers having a really good start to their season.
Alonso banked a solid second place at the first race in Australia, and Massa also started off well – regularly out-qualifying his team mate and recording point finishes.
But things have been on a downward spiral after Alonso's wins in Spain and China. In contrast to the 2012 season when Alonso had a 40 point lead at the summer break, the team has lost their second place in the championship and qualifying seems to be a big problem for the team. Massa was struck by a number of crashes and race retirements pushing  him far behind his team mate as far the driver standings go.
They've just not kept up with the pace of development at Red Bull. Alonso has slipped back into third place in the championship – but it would be silly to discount the Spaniard just yet – his entire championship lead was wiped clean by Vettel in the second half of the 2012 season so that should be a clear indication of how quickly things can change.
Lotus – 183 points
Kimi Raikkonen – 134 points, Romain Grosjean – 49 points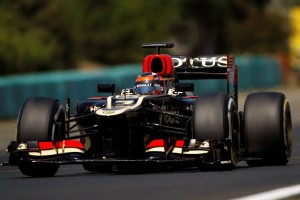 The Lotus F1 Team started the 2013 season on a high, with a win for Kimi Raikkonen at the Australian Grand Prix. But that early strong form has not led to further victories for Raikkonen or the team, with the Finn collecting five second-place finishes and teammate Romain Grosjean – the former 'first lap nutcase' added two third-places to his name.
Lotus have been in the midst of the battle at every race. Their constant evolution and the way the tyres work for them has made this team a contender for the podium every race weekend. But their downfall is Saturday qualifying – the E21 has simply not had the outright pace in qualifying to make Sundays a little easier for the team.
Raikkonen has moved up to second place in the championship, one point ahead of Alonso, but if he hopes to catch Vettel they're going to need to start winning races and with technical director James Allison leaving for Ferrari, it remains to be seen whether they'll be able to keep up the development pace that will be required to catch the Red Bull.
Force India – 59 points
Paul di Resta – 36 points, Adrian Sutil – 23 points
For the purposes of a mid season review it can be said that Force India have had a pretty impressive season in general – especially in the earlier part of the calendar. Their car has far outshone the team's resources and their drivers have both delivered on track, scoring points and making Force India's mark as the strongest of the mid-field teams.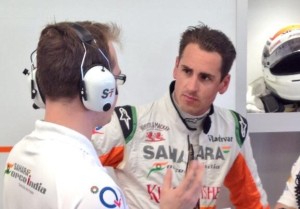 Adrian Sutil, who recently celebrated his 100th race, has driven really well especially in Monaco when he fearlessly overtook his rivals on the narrow street circuit. But unfortunately, like his team mate Paul Di Resta, the pace has just not lasted and they've both been rather lack-lustre of late. The final two races before the mid season break were their worst of the year so far and the tyre change in Budapest seemed to affect them particularly negatively.
Both drivers have worked really hard though and this has culminated in the team now ahead of McLaren in the Constructors' championship. The Woking-based team is breathing down their necks though and they'll have to pull up their socks in the remainder of the season if they hope to hold onto 5th place in the championship.
McLaren – 57 points
Jenson Button – 39 points, Sergio Perez – 18 points
The fact that McLaren is being discussed this far down in the mid season review should be a clear indication of the difficult, disappointing season the Woking-based team have had. McLaren are used to being in the heat of the battle for the championship but are currently on 6th in the standings, behind Force India. The dramatic slump in their form will certainly be a surprise to most.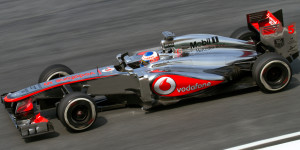 Their drivers both try really hard – sometimes a little too hard as is often the case with Sergio Perez, but their car can't keep up and they're left fighting the mid-field.
Jenson Button's strategy calls have been his only saving grace – in the last four races he was able to challenge for 5th and 6th places but this is obviously not where the team are used to being.
McLaren has said that they are no longer developing their 2013 car and are now working on their 2014 car instead, so don't expect too much from them in the second half of the season. Jenson Button however has said he is very positive going into the Belgian Grand Prix and has predicted a podium at Spa. Let's wait and see how that pans out.
Toro Rosso – 24 points
Daniel Ricciardo – 11 points, Jean-Eric Vergne – 13 points
Toro Rosso may not be fighting for titles and race wins but they have shown some significant progress during the season so far.
Daniel Ricciardo, who is still first in line for Mark Webber's Red Bull seat, has put in some very strong qualifying performances.
Team mate Jean-Eric Vergne has brought home some very impressive race drives. With Vergne out of the running for the Red Bull seat, one can only hope that the Frenchman will still come out fighting for the rest of the season as the battle of the team mates has been the most interesting thing to watch within the Toro Rosso team.
It is unsure how long Toro Rosso will continue development on their current car, given the mammoth task of developing the much-changed 2014 cars that lies ahead.
Sauber – 7 points
Nico Hulkenberg – 7 points, Esteban Gutierrez – 0 points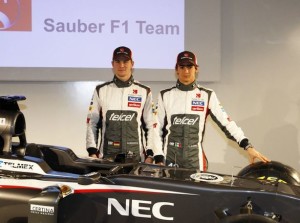 Sauber has had a really challenging season so far and the mid season review of their performance leaves a disappointed taste in the mouth. Everyone had great hopes for Sauber – their car was the star of the 2013 car launches, but things have just not materialised for the team.
I guess a lot can be blamed on their budget and financial troubles but from the very beginning Sauber were on the back foot with a car that has struggled from the word go, and two brand new drivers in the team.
Nico Hulkenberg has done his best with the car he's been given and has managed to secure 7 points for the team. His team mate Esteban Gutierrez has not done too badly for a rookie but has failed to bring home any points.
Sauber have closed a deal with Russian investors to help save the team, so let's hope that pans out well for them or we may never see a C-33.
Williams – 1 point
Pastor Maldonado – 1 point, Valtteri Bottas – 0 points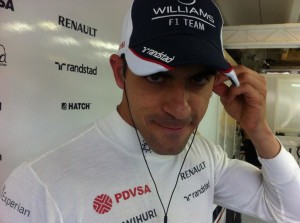 At the back of the grid it's been a very disappointing season for the Williams team. After winning a race last year in the FW34 we all expected much more from the FW35 but alas. They only scored their first point for the entire season at the Hungarian Grand Prix in Budapest.
The car lacks downforce and both Pastor Maldonado and team mate Valtteri Bottas have found the car difficult to drive, resulting in the team doing a mid season review of their own and overhauling their technical team. Most notably, technical director Mike Coughlan has left the team and been replaced by former Renault and Marussia man, Pat Symonds. He is bound to make a huge difference to the team but I'm afraid it's a little too late to expect it to make a difference for the 2013 season though so let's hope they're already working on next year's car.
Marussia – 0 points
Jules Bianchi – 0 points, Max Chilton – 0 points)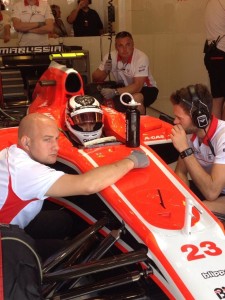 Marussia continues their battle for tenth place in the championship with the Caterham team. They started the season very impressively and after the Australian Grand Prix you would have been forgiven for thinking they may even be set to trouble the mid-field teams this season, but instead they've pretty much been racing the Caterham team all season.
They have gained a lot since last year though, especially in the form of rookie driver Jules Bianchi who has had some impressive performances.
His fellow rookie team mate Max Chilton has struggled a little to come to grips with driving an F1 car but the Marussia team have been impressed by his consistency and the feedback they get from him.
They've been dealt a pretty big blow with Pat Symonds leaving for Williams but for now, they still hold on to tenth place thanks to Bianchi's 13th place finish in Malaysia.
We're not expecting much in terms of development from the Marussia team for the rest of the season but for now, it seems they should be able to stay ahead of the green machines for the remainder of the season.
Caterham – 0 points
Charles Pic – 0 points, Giedo van der Garde – 0 points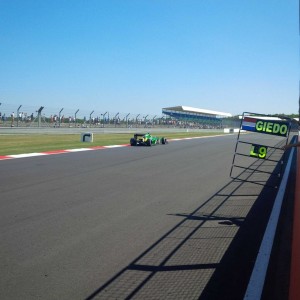 Caterham's season has been an uphill battle all the way. The team was targeting the mid-field but have just not managed to make any headway. It was only after Heikki Kovalainen was called in to advise the team that they started making some headway and finally in Bahrain – at the fourth race of the season – they managed to out qualify Marussia.
Slowly but surely their car has been improving and their upgrades have steadily resulted in progress. In Hungary they were able to easily out qualify both Marussia's.
Both Giedo van der Garde and Charles Pic have put in solid performances, doing they best they can with what they have so they'll be hoping that they can take back tenth from Marussia before the end of the season.
And that's a wrap on our mid season review of the 2013 Formula 1 season. The first half of the season has been a thrilling one but has been dominated by tyres. With that behind us, and teams now on revised Pirelli rubber, the second half of the season should see some real battles taking shape. As we head to Spa for the Belgian Grand Prix you can bet that everyone will be bringing their A game.
What are you hoping for in the second half of the season? Share your thoughts in the comments section below.
Photo credits:
Photo of Bianchi's car on fire – F1 Madness screen grab
Photo of Vettel gearbox failure – F1 Madness screen grab, Sky Sports HD
Lewis Hamilton after the Hungarian GP – Mercedes F1 Twitter Team
Massa and Alonso – Ferrari F1 Twitter team
Raikkonen – Lotus F1 Team
Adrian Sutil – Force India Twitter team
Jenson Button – Wikimedia Commons
Daniel Ricciardo – Red Bull Twitter Team
Sauber launch – Sauber F1 Team
Pastor Maldonado – Williams F1 Twitter Team
Max Chilton – Marussia F1 Twitter team
Giedo van der Garde – MyCaterham Twitter team