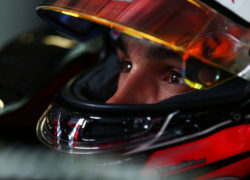 The Sahara Force India Formula One team have announced that current Manor driver Esteban Ocon will drive for the team from 2017 on a multi year contract.
Ocon who was the test driver for Force India in 2015, will have his first shot at a full season in F1 after being promoted to F1 from DTM at the Belgian Grand Prix to take Rio Haryanto's place at Manor.
The confirmation of Ocon completes the Force India Driver line up for 2017.
"I'm very excited to join Sahara Force India," said Ocon.
"I know the team quite well already because I was a test driver last year and I'm really looking forward to working with everybody at Silverstone once again.
"I'm still relatively new to Formula One, but spending half a season at Manor Racing has given me some valuable experience and I feel ready for this new opportunity with Sahara Force India. The next few months will be very busy as I do all I can to prepare for the challenge ahead of me.
"It means lots of days at the factory, working on the simulator and building relationships with the engineers and everybody in the team. It's something I've been working towards my whole life and I intend to grab this opportunity
with both hands so that I can deliver the results the team expects from me.
"I want to say 'thank you' to everybody at Manor and especially to Mercedes-Benz for their support and belief in me.
"I can't wait for 2017 and my first full season racing in Formula One."
Head of Mercedes Motorsport Toto Wolff: "Esteban has the most impressive track record in junior formulae and he is an exceptional personality outside of the car.
"Force India have a strong record of working with young drivers and have again shown courage and vision to take Esteban under their wing.
"Even more, it is a positive development for Formula One that talent wins over money and we will be seeing some of the most impressive youngsters fighting to make it to the top in Formula One over the coming years."
Photo credit: Sahara Force India Formula One Team