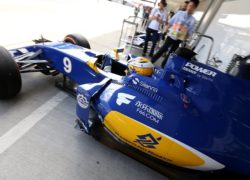 The Sauber Formula One team has confirmed on Monday 21 November that they will retain the services of Marcus Ericsson for 2017.
Ericsson has sealed 1 out of the two seats available at Sauber with the second seat which is held by Felipe Nasr is currently up for grabs. Ericsson has been closely linked to the investment company that has purchased a stake in the Sauber team so it would've just been a matter of time since his announcement to remain at the team.
"It is great news that I will be racing for another year for the Sauber F1 Team. I have spent two years with Sauber now, and I really feel at home," said Ericsson
"A big thanks to everyone within the team for trusting in me again. From a personal point of view, I have developed a lot as a driver during my time at Sauber. We have had ups and downs, but we always stick together and work as hard as we can.
"Since the new ownership, there has been a positive push in the team, so it will also be exciting to go into this new era.
"Many motorsport experts are becoming part of Sauber, which is a good sign for the future.
"For 2017 my aim is to build on my performance from the second half of this season, and to continue working hard with the team.
"I cannot wait for the 2017 season, so that we can make our way up to the midfield with the objective to score points on a regular basis."
Sauber said they will announce their second drive in due course. After scoring their first points at the Brazilian Grand Prix in Sao Paulo, Nasr has a solid argument for him to remain in the team. It remains to be seen if his points haul was enough to keep him in the team for 2017.