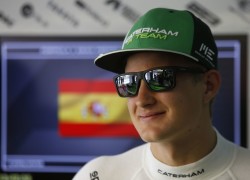 Former Caterham driver, Marcus Ericsson has announced in a statement that he has cut all ties with the Caterham F1 team.
This comes a few weeks after Ericsson was confirmed as a Sauber driver for 2015. This would mean that if Caterham, who are in a middle of a crowd funding venture, were to make it to the final race of the season in Abu Dhabi, he will not race for the Leafield outfit.
Ericsson's statement in full:
"Following recent events re Caterham Sports Limited and 1 MRT Sdn Bhd, my adviser Eje Elgh and I have decided to terminate, with immediate effect, all agreements connecting me to the Caterham F1 team.
This is a sad day as we have greatly enjoyed working with the team through a difficult and tough season.
I wish to thank Colin Kolles, Manfredi Ravetto, Cyril Abiteboul and every other member of the Caterham F1 team for your trust and confidence in me, and for making my first Formula 1 season an educational and unforgettable experience.
In addition, I thank my good friend and teammate Kamui Kobayashi for being an inspiring benchmark throughout the year, and hope to see him back on the track soon."