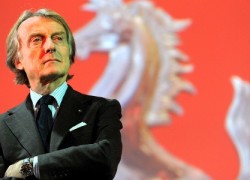 In his first interview since his exit from Ferrari. Former Ferrari President Luca di Montezemolo thinks that Ferrari has hit a bit of luck this season and also thinks that Red Bull are imploding.
"I sincerely think they have been a bit lucky," said Di Montezemolo in the interview with Italian newspaper Repubblica.
"This year, except for Mercedes, they have no other rivals.
"Williams hasn't improved, Red Bull has imploded – I know Dietrich [Mateschitz] is thinking of selling, he's told a common friend: 'Either I convince Audi to enter, or I'm out' – and McLaren is in dire crisis, so now Ferrari starts every race with a podium in its pocket.
"But luck is useless if you don't know how to make the most of it, so in my opinion that's a merit, as is the intelligence they had of not throwing away what had been done before they came."
Di Montezemolo claimed that he has some part in bringing four time World Champion Sebastian Vettel to Ferrari saying that Michael Schumacher first introduced Vettel to him in 2009 and suggested he take Felipe Massa's place after his horror crash at the Hungaroring in 2009.
"The first person at Ferrari who talked about Vettel was Michael," said di Montezemolo.
"It was the summer of 2009 when he would have returned to stand in for Felipe. He told me 'The perfect driver for you is Seb.'
"Stefano wanted him at all costs and brought him to my home in Bologna. He arrived with a box of Swiss chocolate.
"He was already a world champion, yet his manners were somehow clumsy. Everyone was finely impressed.
According to di Montezemolo, Marco Mattiacci continued the drive to recruit Vettel to Ferrari. Ultimately it was Ferrari and Fiat Chairman Sergio Marchionne that eventually got Vettel to sign for the Ferrari.
He goes on to say that Alonso's distrust in the team and gloomy mood made the decision for them to change drivers.
"Finally, when with Marchionne we saw Alonso had become gloomy and was always showing skepticism with the team, we decided for the change."
Di Montezemolo finally spoke about the state of F1 and said that he does not think that anyone could replace Bernie Ecclestone. He goes on to say that Ecclestone is the only one that could change things in Formula 1. On Ecclestone's successor, he thinks that there isn't anyone suitable to replace him but that someone should be trained to take his place.
Thanks to Laura Rocchigiani for the translations