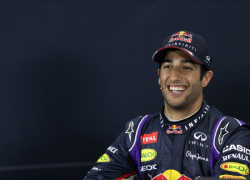 Australian Formula 1 driver Daniel Ricciardo has won the Laureus breakthrough of the year award.
The 25 year-old Ricciardo joined the Red Bull Racing team in 2014 and racked up three impressive victories and five podium finishes in a season otherwise dominated by Mercedes. Despite not being able to attend the prestigious awards ceremony in Shanghai Ricciardo graciously accepted the award via a pre-recorded video message.
"2014 is a year I'll remember for a long time – it was definitely a breakthrough in my mind as well," he said. Standing on the top step of the podium a few times was icing on the cake."
Ricciardo is the first Australian in five years to win a Laureus Sports award.