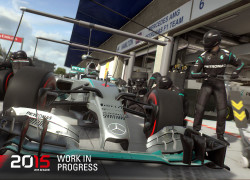 Codemasters has announced that they are working on the new F1 2015 game for Xbox One, PlayStation 4, and PC. The UK-based software company will launch the game for these platforms in June this year with a host of new features including a significant step forward graphically.
The F1 2015 game is being developed on an "all new version" of the EGO engine and according to Codemasters, aims to deliver the "ultimate Formula One video game experience and act as a significant step forward in the game's visuals and physics-based handling model."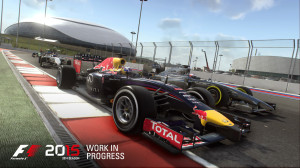 It is surely a dream for every Formula One fan to be able to experience the sheer exhiliration of driving an F1 car and the F1 2015 game will bring gamers and fans alike just a little step closer into the world of motorsport's top driving elite. Codemasters is making additions and improvements in more than 20 areas including aero dynamics, engine and transmission, fuel tank, force feedback and suspension. They're even adding a brand new tyre physics model that looks incredibly promising. Codemasters says that together these enhancements will create the ultimate "breathtaking and realistic representation of how these cars handle on the track".
"The buzz and excitement that surrounds each Grand Prix is incredible, and we wanted to transfer that to the F1 2015 game with an all-new broadcast style presentation that'll deliver that unmistakable race-day weekend atmosphere of a Grand Prix, complete with podium and grid sequences", the software developer said. All of this will be available in the Championship Season mode, as well as in the brand new Pro Season mode. The Quick Race and Multiplayer modes will also make a return.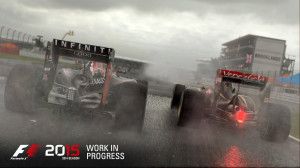 A real stand-out feature is the voice recognition technology available for Xbox One and PlayStation 4 consoles. Via in-game voice commands available on the consoles, you'll be able to interact with your race engineer like never before! You'll be able to ask for race info, weather updates, condition of your tyres and you'll be able to request tyre and even front wing changes!
There's bonus content too! The F1 2015 game will include officially licensed cars, drivers, and tracks from the 2014 F1 World Championship season. According to Codemasters this content has been "built from the ground up" in order to make use of the F1 2015 game's new handling features and more.
Codemasters released the following statement from F1 2015 game director Paul Jeal: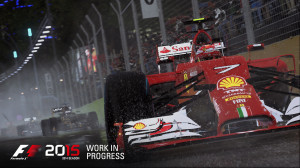 "The F1 2015 game marks an exciting new chapter for Codemasters and Formula One; it's a shift in direction for the game series, on new formats and our brand new game engine, with the game set to be released earlier in the season, launching this June.
The handling is a vast improvement from our previous games. In particular our new tire model is a superb step forward towards realism, letting you explore where the limit is and allowing you to instantly feel much more connected with the car. You can now experience the changes in grip caused by temperature changes, wear, car set-up, debris, and weather conditions.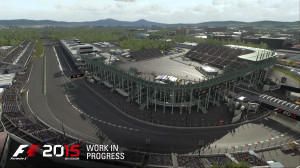 Our improved vehicle dynamics much more accurately convey the difference in performance and the feel between mechanical and aerodynamic grip. The new Force Feedback system adds to the feeling of connection with the car and track surface. The more natural and realistic nature of the game physics also serves to ensure that the racing experience is more accessible, enjoyable and rewarding for players of all skill levels.
The team is busy modelling the new 2015 cars and drivers in readiness for the game's summer launch. You can see a tease of our first signed off 2015 content in our debut screenshots, as well as an early glimpse of the Mexican circuit. In addition to the 2015 season, we are also delighted to be able to offer the 2014 season as a bonus selectable season. Even this far out from our game's release they truly show the power of our new game engine."