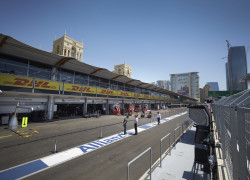 After a number of safety concerns by drivers the FIA will make changes to the Baku City Circuit pit lane entry and some of the kerbing around the circuit.
After the GP2 Qualifying was postponed the FIA discovered that the bolts that hold the kerbs down had worked loose and were causing cuts on the tyres. Race officials managed to weld down the bolts. Teams were told by the FIA to notify their drivers not to drive on the kerbs at Turn 6.
The FIA will now make changes to the kerbs overnight. According to Motorsport.com the kerbs at Turn 6 and Turn 12 will be removed and will be replaced by painted versions.
The chicane at the pit entry was also a talking point among drivers. There is potential that things can go spectacularly wrong at the chicane and could end the race of a driver if he got it wrong.
The pit entry line, according to the drivers, was not obviously visible due to the undulations down the pit straight. The FIA will extend the pit lane line further back and to the left. This means that the left side of the track will be for drivers entering the pits. Drivers are not allowed to cross the pit entry lines if they decide to dive into the pits at the last second.
Photo credit: Mercedes AMG Petronas Formula One Team