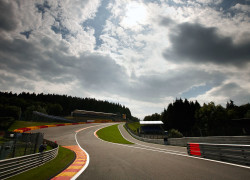 After a well deserved summer break the F1 circus returns to what is one of the greatest circuits in the world. The Circuit de Spa-Francorchamps.
Tucked away in the Ardennes forrest, the original version of the track was 14.9km long and was built in 1920 and used the public roads between the towns of Francorchamps, Malmedy and Stavelot, all of which are corner names on the modern circuit today.
The track underwent some modifications and was made faster from 1947. This configuration was used until the late 1970's when the track was shortened to the configuration we see today  but with the original bus stop chicane which went left-right after the notoriously fast left handed Blanchimont corner. The circuit underwent a few more modifications in the mid 200o's to the layout we have today. The bus stop chicane was moved back towards Blanchimont and is now a right-left chicane and the the La Source Turn 1 hairpin was moved forward. This created a longer pit straight which opened up the space for new pit buildings and run off areas at Turn 1.
Spa is a favorite among fans and drivers. Like Suzuka, its become a real drivers track. The fast flowing turns together with the elevation changes creates a challenge for the drivers which they all enjoy.
Teams have to find that perfect balance on car setup to get the best time around the circuit. Sectors 1 and 3 are fast with very little to slow you down and requires low downforce. Sector 2 is the slower more technical part of the circuit which requires medium downforce levels to get the grip out of the slow corners.
A few changes will be implemented at Spa with regards to start procedures. Drivers will be required to get the cars off the line for the race start by themselves. This means no guidance on temperatures, and clutch bite point finds on the starting grid. They will not be allowed to change any of the settings once the car has left the pit lane when the pit lane opens before the start of the race.
This will make things unpredictable at the start and it will be down to the driver to get away cleanly. There is also the safety aspect of it where drivers will weave to get around slower starting cars and team bosses have warned that some concessions will have to be made if things prove to be unsafe.
Broadcast times are the usual afternoon and morning times.
Free Practice 1: Friday 10:00
Free Practice 2: Friday 14:00
Free Practice 3: Saturday 11:00
Qualifying: Saturday 14:00
Race: Sunday 14:00
All times are GMT+2