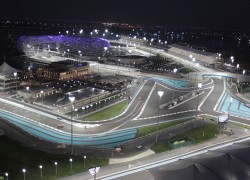 The final round of the Formula 1 World Championship brings us to the Yas Marina Circuit on Yas Island in Abu Dhabi for the Abu Dhabi Grand Prix.
After a very long seasons, the teams and drivers will no doubt want to give their all before going off on a well earned winter break.
The 5.554km Yas Marina Circuit sits on Yas Island about half an hour out from Abu Dhabi. The circuit runs in a counter-clockwise direction and has 21 corners in total. The first and second sectors are high speed sections with long straights and sweeping corners punctuated by a hairpin and a few chicanes. The third and final sector is the slow section of the track with a few 90-degree corners with a lot of stop-start action. The cars will depend heavily on the mechanical grip from the tyres to get the drive out of the slow corners.
Teams tend to favor a medium down force setup which strikes the balance between the high speed opening sector and the slow final sector.
Although the drivers and constructors championships have been wrapped up, don't expect to see a muted race to the finish. There will be some teams and drivers racing hard till the end. It will be the final throw of the dice in the battle of the teams mates at most of the teams.
Lotus' Romain Grosjean will say goodbye to Lotus after the race as he moves to Haas F1 at the end of the year. The battle between the two Mercedes team mate is still going on. Lewis Hamilton has not been able to secure pole position for quite some time now and he'll want to finish strong going into the break. Nico Rosberg who's riding a wave of confidence at the moment has proven that he can fight up there at the best of times and soaks up the pressure like a dried up chamois.
Ferrari fancy their chances at a victory this weekend but remain cautious about getting anyone's hopes up.
The season ends off with a twilight race which means an early evening finish for everyone in Europe and Africa.
| | | | |
| --- | --- | --- | --- |
| | Local | GMT | GMT+2 |
| Free Practice 1 | Fri 13:00 | Fri 09:00 | Fri 11:00 |
| Free Practice 2 | Fri 17:00 | Fri 13:00 | Fri 15:00 |
| Free Practice 3 | Sat 14:00 | Sat 10:00 | Sat 12:00 |
| Qualifying | Sat 17:00 | Sat 13:00 | Sat 15:00 |
| Race | Sun 17:00 | Sun 13:00 | Sun 15:00 |