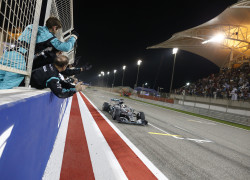 With Lewis Hamilton winning the Bahrain Grand Prix and Nico Rosberg finishing in 3rd, Mercedes say that the brake problems they suffered at the end of the race made it bitter sweet for them.
Rosberg lost P2 in the race a few laps before the end, due to a brake-by-wire problem, to a charging Kimi Raikkonen in his Ferrari who was on the faster option tyre.
"At the end it was very disappointing that Kimi got me," said Rosberg after the race. "I had no chance to defend my position with a brake-by-wire problem in the last two laps. I just went straight on at Turn One and that allowed him past, which was a shame."
Hamilton suffered from the same problem as his team mate at the same corner according to Mercedes. Hamilton managed to hold his lead and nurse the car home because of the gap he had opened to Rosberg in the race. In the end, Raikkonen finished just 3s behind Hamilton.
"I think my brakes got a bit warm behind a few backmarkers," he explained.
"When you are behind you don't get cool air, so they got a bit warm. But it wasn't really a problem"
Speaking after the race Executive Director of Business, Toto Wolff admitted that it was not an easy race for the team.
"That was not an easy afternoon for us today but we must be happy with P1 and P3 after we had a number of big challenges during the race, he said"
He lamented the brake failure but maintained that Rosberg would have been able to keep Raikkonen behind him for the Mercedes 1-2.
"just as we were getting to the decisive moment, he suffered a brake-by-wire failure into Turn One on lap 56. That meant he was basically a passenger as he ran wide and Kimi was able to sneak past. Without that, I think he was driving so well that he would have kept the Ferrari behind – but he had no weapons to defend."
Photo credit: Mercedes AMG Petronas Formula One Team