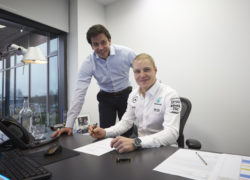 Valtteri Bottas has extended his stay at Mercedes for another year and will drive for the Silver Arrows for the 2018 season.
Bottas has currently has a one-year deal with Mercedes till the end of this year. This new deal ensures he will remain in F1 for another season. This also ends any speculation that Red Bull's Max Verstappen will make a surprise exit from Red Bull to Mercedes.
Bottas has a total of 9 podium finishes for Mercedes, and two victories at Russia and Austria. He also took his first pole position of his F1 career with the Silver Arrows at Bahrain.
"I am honored and proud to continue to work with Mercedes-AMG Petronas Motorsport in 2018 and to remain part of the Mercedes family," said the Finn.
"Together, we continue to grow stronger day by day, and by keeping up our hard work I believe the sky is the limit," said Valtteri.
"Since joining the team in January, I've enjoyed every day working with them. The welcome and the support from every team member and all the fans has been invaluable.
"As a driver, I've been able to learn and grow massively, and we have already enjoyed some really good moments this season that I will never forget. I've been very impressed by the mentality, commitment and the team spirit this team holds.
"Partnering Lewis has also been really good, and I'm enjoying the respect we have and the will to push this team forward together.
"When the team hired me for the 2017 season, they took a leap of faith by putting their trust in my skills. This new contract for 2018 shows that I've earned that trust."
Toto Wolff: "We gave Valtteri a big challenge this year: joining the team at the eleventh hour, stepping up to the forefront of F1 and pairing with the sport's best driver as his team-mate. With that in mind, his results have been probably even more impressive.
"There have been ups and downs – more ups, fewer downs – and some great highlights like his two race wins in Russian and Austria. Overall, the balance of his performances and his upward trajectory made it a no-brainer for us to continue with him into 2018.
"For our team, the bonus factors are the respect and sportsmanship that have grown between our two drivers. The chemistry and dynamic between Valtteri and Lewis work and are what we need to take the fight to our competitors."