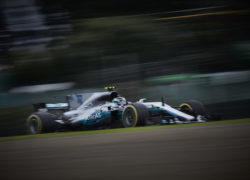 Valtteri Bottas set the fastest time for the final free practice session for the Japanese Grand Prix but crashed out with just over half an out to go in the session.
Bottas set a 1:29.055 on the super softs in the Mercedes, 0.014s faster than team mate Lewis Hamilton. On, what looked like his second go at a timed lap, the Finn ran wide at T14 (Spoon) and dipped a wheel on the wet astro turf. This dragged him further off the track and on to the grass on the run down to 130R. He then tagged the barrier with the rear right, which pivoted the car around which caused the front right to make contact with the barrier. He was able to make it back to the pits.
The session was red flagged as the marshals cleaned the track and inspected the barriers.
Just when the session restarted, Ferrari's Kimi Raikkonen was the next one to experience the ruthlessness of the Suzuka circuit. Raikkonen, on a flying lap, carried too much speed into Degner 2, which swung the rear of the car around under braking. He managed to catch the slide but in doing so went across the gravel and clouted the barrier damaging the rear left wishbone. This brought out the second red flag of the session.
There's is no word on any gearbox change on Raikkonen's car due to the contact with the barrier.
Sebastian Vettel set a time late in the session to go P3. After another go at a fast lap Vettel improved to a 1:29.379 which is still 0.324s off the benchmark set by Bottas.
The two Red Bull's who were running different setups were 4th and 5th with Verstappen ahead of Ricciardo by 0.108s. According to Red Bull Team Principal Christian Horner, the Red Bulls are the fastest cars through the corners but were losing about half a second of time down the straights.
Esteban Ocon and Sergio Perez made the top 10 for Force India with Ocon finishing 6th fastest and Perez 10th.
Nico Hulkenberg got the Renault once again into the top 10 finishing 7th fastest ahead of an 8th placed Fernando Alonso in the McLaren.
The red flags did break the momentum of the session somewhat. One feels that the times could have been faster this session.
Mercedes look comfortable up front with their package and Hamilton looks set to take pole position with Sebastian Vettel joining him on the front row.
The cloudy conditions are set to persist throughout the afternoon so we could see a dry qualifying session.