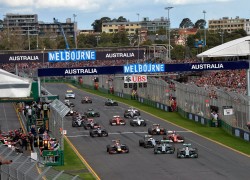 The Australian Grand Prix organizers have confirmed that the Australian GP will now take place from 17-20 March 2016.
"The date for the 2016 Formula 1 Australian Grand Prix has changed to 17-20 March," read the statement by the race organisers.
"The change of the date is part of a number of changes on a provisional calendar issued by the World Motor Sport Council.
The initial date was for 3 April but F1 ringmaster Bernie Ecclestone was looking to move the date up to the usual March date.
Organizers for the Australian GP said that they did not see any issue with bringing the date up and the decision will be ratified by the World Motorsport Council which is meeting today