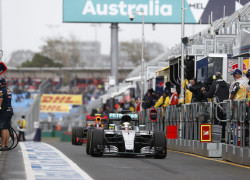 After the failure that was the new F1 qualifying format, an immediate call was made by fans and drivers to revert back to the old style qualifying before the new regulations. Credit to the F1 management and the FIA. They actually listened.
But it might not be that simple. Nothing ever is in F1. There may just be a u-turn on the u-turn and a hybrid solution may be implemented for the Bahrain Grand Prix.
The plan, after the Australian Grand Prix fiasco was to revert to the old style qualifying while evaluating the new system to be implemented for the 2017 season. This move was opposed by Pirelli and by Force India and that means that things may stay the same unless unanimous support is expressed for any change.
When the new qualifying change was proposed, it was suggested that an elimination style Q1 and Q2 take place with the traditional Q3. That idea was shot down and the original idea of three elimination rounds would go ahead. It seems that we may have the hybrid solution of an elimination style  Q1 and Q2 with the traditional Q3.
The F1 Commission and the FIA are set to meet on Thursday to agree and vote on a solution.