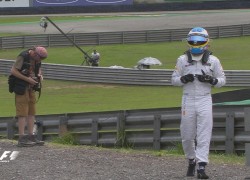 Honda has been forced to make a 12th engine change for Fernando Alonso ahead of Sunday's Brazilian Grand Prix. The Spaniard receives a 10-place penalty for his 12th engine, plus five places each for an 11th turbocharger and MGU-H, an eighth MGU-K.
Alonso's McLaren-Honda 2015 F1 season woes continued in qualifying at the Interlagos circuit when his engineer ordered him to stop his car on his first flying lap after spotting an abnormal temperature warning.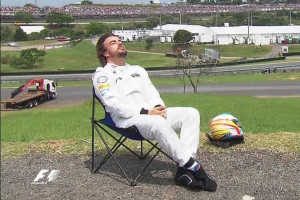 Alonso pulled off the track and proceeded to sun himself in a deckchair while his car was being retrieved managing to crack a bit of  a smile when he realised the cameras were taking full advantage. Twitter of course was having a field day with memes immediately hitting the timelines.
The team has not been able to identify the cause of the problem and for that reason decided to change the entire power unit – his third of the Brazilian GP weekend.
After not setting a qualifying time, Alonso would have started at the back of the grid anyway but nevertheless gets himself a 25 place grid penalty.