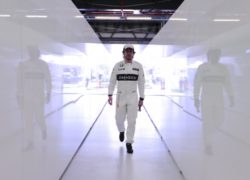 Fernando Alonso remains tight lipped about his future plans in Formula 1 and says that he will decide on his future after the summer break around September or October.
The Spaniard has had to endure another torturous season of bad reliability at McLaren-Honda, something that has become synonymous with the team since Honda entered the sport in 2015.
Speaking to journalists on Thursday ahead of the Canadian Grand Prix Alonso said that he will make his decision in September.
"We have to win. You know, if we are winning before September or something like that I will make a decision and I will stay," said Alonso when he was asked what would keep him at McLaren.
Ahead of the Thursday press conference, McLaren Executive Director Zak Brown was quoted as saying that McLaren are nearing their limit with Honda and has expressed doubt if the partnership with the Japanese Automaker will continue.
After it was pointed out that McLaren dont, realistically, have a chance for wins this season and if he will leave McLaren if they do not produce a win,  Alonso side-stepped the follow up question with his reply.
"You never know. You cannot be 100 per cent now in June about a decision for next year that I don't even start to consider," he said.
"What we all want is to win and, related to the answer before, what Zak commented yesterday and the Honda thing is probably what you will expect Zak to say. He wants to win; he wants to put McLaren again on a contender position for the championship.
"So, y'know, after three years we are not in that position. Things have to change, I guess, for the team. And the same with me. I want to win, and I joined this project because I wanted to be World Champion and we are not in that position.
"So, if you don't see things changing and you are not in a competitive position, maybe you change projects. That's the only think that I can say now, until I sit down with myself in September, October or whatever – after the summer as I always said, I cannot say 100 per cent about anything now.
"The best decision I will take after summer."
From what Alonso has said it seems that he is on the end of his tether with McLaren-Honda and is seeking a drive with another team next year. His choices are somewhat limited in that respect with a possibility of an opening in Mercedes should they choose not to renew Valtteri Bottas' contract for 2018.
McLaren will try everything they can to keep Alonso. Letting him take part in the Indy 500 was one of the ways. Next on the list is the World Endurance Championship.