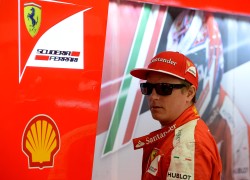 After engine troubles in FP3 which resulted in a gearbox change ahead of Qualifying, Ferrari's Kimi Raikkonen will drop a further 30-places down the grid for the race on Sunday.
Raikkonen who was to be dropped 5 places after qualifying will incur a further 30-place drop after the team decided to change his engine, turbo, MGU-H, energy store, and control electronics. This will be Raikkonen's 6th engine and 5th of every other component.
He'll take a 10-place drop for the new engine and a 5-place drop for each 5th component (turbo, MGU-H, energy store, control electronics).
After all the penalties have been applied Raikkonen will start in 19th place ahead of McLaren's Jenson Button in 20th position.
Photo Credit: Scuderia Ferrari Formula 1