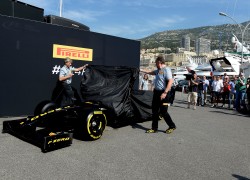 With new regulations coming into effect from the 2017 F1 season, Pirelli have announced the testing schedule for the new 2017 tyres.
Ferrari will kick off the first test with a modified version of the SF15-T at their Fiorano test track from 1-2 August. The test will be a wet weather tyre test. Ferrari will test the slick tyres in Barcelona between 6-7 September and again at the Yas Marina Circuit in Abu Dhabi from 14-16 November.
Red Bull will test at Mugello and Abu Dhabi in August and October, and November respectively. Mercedes will have its turn at Paul Ricard during September and once more in October.
The final test in Abu Dhabi on 29 November will be a validation test will all the teams taking place.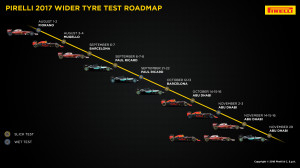 The entire testing program will take place over 10 sessions for a total of 24 days. Each team will have a total of 7 days of running and will be obliged to share the tyre data gathered during the tests with the other teams in the interest of sporting equity.
Wider Tyres
The 2017 Formula 1 season will see wider tyres both at the front and the rear of the cars. The rear tyre width increases by 80mm, going from 325mm to 405mm and the front tyre width increases by 60mm from 245mm to 305mm.
Tyre diameters have also increased to 675mm for the wet weather tyres and 680 mm for the slick tyres. The wheel rim stays unchanged at 13 inches.
| | | | | | |
| --- | --- | --- | --- | --- | --- |
| Session | Date | Test Days | Circuit | Car (s) | Tyres |
| 1 | 1-2 August 2016 | 2 | Fiorano | Ferrari | Wets |
| 2 | 3-4 August 2016 | 2 | Mugello | Red Bull Racing | Slicks |
| 3 | 6-7 September 2016 | 2 | Barcelona | Ferrari | Slicks |
| 4 | 6-8 September 2016 | 3 | Paul Ricard | Mercedes | Slicks |
| 5 | 21-22 September 2016 | 2 | Paul Ricard | Mercedes | Wets |
| 6 | 12-13 October 2016 | 2 | Barcelona | Mercedes | Slicks |
| 7 | 14-16 October 2016 | 3 | Abu Dhabi | Red Bull Racing | Slicks |
| 8 | 2-3 November 2016 | 2 | Abu Dhabi | Red Bull Racing | Wets |
| 9 | 14-16 November 2016 | 3 | Abu Dhabi | Ferrari | Slicks |
| 10 | 29 November 2016 | 3 | Abu Dhabi | All | Final validation |
All photos by courtesy Pirelli