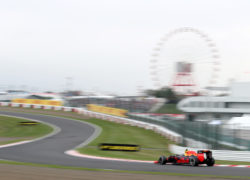 As quickly as the pack up in Malaysia had started, teams were in Suzuka, Japan preparing for the 16th Round of the Formula One World Championship.
The Suzuka Circuit has been a regular feature on the Formula 1 calendar and traditionally has hosted the final Grand Prix of the season which saw many drivers crowned world champions.
The current F1 layout of Suzuka is 5.807km long with 18 turns. Some famous corners such as 130R, sector one with the esses, Spoon and of course Degner 1 and 2 make this a real drivers track and it is a well known favourite of drivers.
"It's just a great circuit. It's extremely fast, and you have the section in sector one with all the esses – that feels amazing going through there in a Formula One car," says Haas' Kevin Magnussen.
The drivers probably cannot wait to get these 2017 cars around the track. With all the downforce this years cars produce we can expect times to be very quick. There's a possibility that Degner 1 could be taken flat out.
Pirelli goes one step softer
Pirelli are bringing going one step softer this year and for the first time will not bring the hard compound tyre to Suzuka this year. Instead they are bringing the white marked medium compound, yellow marked soft compound and the red marked super soft compound.
Suzuka is one of the hardest tracks on the tyres in terms of longitudinal loading on the tyres. The long fast corners like Spoon and 130R and in the Esses put large amounts of energy through the tyres. High downforce configurations are usually run by teams around Suzuka.
Pirelli expects high tyre wear and high degradation, and with the fast cornering graining can also be a factor.
Although the tyres this year are more durable we could see a two-stop race this weekend.
Red Bull Resurgence
Red Bull have been looking increasingly competitive since coming back from the summer break despite being down on power. A Red Bull car has been a regular feature on the podium since the summer break the team from Milton Keynes are the team in form at the moment.
Red Bull head into Suzuka on the back of a dominant Max Verstappen victory in Malaysia less than a week ago on a track which Mercedes were, on paper, supposed to dominate. It could be argued that Ferrari had the faster car over the Malaysian Grand Prix weekend but engine problems for both Ferrari's cost them and they were not able to capitalise on Mercedes' lack of pace.
The Suzuka circuit characteristics will suit Mercedes, but Red Bull will fancy their chances this weekend. They clearly have a very good package and with two drivers hungry for wins and nothing to lose, we can expect them to get in the mix between Mercedes and Ferrari.
Over in Maranello Sergio Marchionne has reportedly made some changes to the team structure following the engine problems that plagued Sebastian Vettel after FP3 and Kimi Raikkonen just before the race for the Malaysia Grand Prix. There were also concerns that Vettel may have to take a gearbox penalty following his collision after the race on the cool down lap with Williams' Lance Stroll but Ferrari have come out and said that everything seems to be fine with the gearbox and that they will conduct tests during Friday Practice in Suzuka as a final check.
Mercedes will want to put their Malaysia weekend behind them and will no doubt be in a fighting mood come Friday in Suzuka. It's a track where the W08 will feel right at home. Hamilton will see this as another chance to extend his championship lead over Vettel and put some breathing room between himself and German and who knows may already have one hand on the Championship trophy come Sunday.
Photo credit: Red Bull Racing Formula One Team