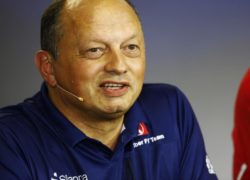 PART ONE: TEAM REPRESENTATIVES – Frédéric VASSEUR (Sauber), Mattia BINOTTO (Ferrari), Mario ISOLA (Pirelli)
PRESS CONFERENCE
Q: Mattia, it's very tight at the top of the timesheets this afternoon. How did today go for you, Ferrari, and how do you assess the pace of nearest rivals?
Mattia BINOTTO: Obviously we just finished the session so we are looking at the data. I think it has been a difficult session because of a lot of traffic, red flags, so difficult somehow to complete the programme. We had to do some compromises on the programme but trying to collect as much data as possible. As you said, the field is very close but nevertheless we are concentrating on ourselves. Trying to optimise the balance of the car will be very important for qualifying and the race. It will be quite hotter Sunday compared to what we got today, so preparing and working on the balance will be very important and key.
Q: And knowing what you know now, are you confident you can be more competitive here than you were at Silverstone two weeks ago? 
MB: I think it's always difficult to judge but certainly today was less negative, let's say, compared to what we have seen in Silverstone. But Silverstone is in the past. I think somehow we need to forget it, being focused on what is this weekend. I don't think the comparison is really necessary. More important just being focused on Hungary.
Q: In the past week it has been announced that the Halo head protection is going to be introduced in 2018. Can I ask you about the practicalities of including the Halo on next year's car, just from a cooling point of view, an aerodynamic point of view, how far down the road are you with those developments?
MB: Obviously the decision has been made at the last Strategy Group meeting in the last week. It's quite a late decision compared to the project but nevertheless, because of the safety it's important everybody tries to work very hard on it. The implications are from the chassis structure point of view. So we need to make sure that we are fitting well the Halo on the chassis and the chassis is resisting to the loads that are required by regulations. As well from the aero point of view it may affect certainly the back of the car and that has to be taken into account when designing the new car.
Q: Mario, just a word on today's running. What have we learned about tyre performance, tyre wear, degradation? How many pit stops can you foresee on Sunday?
Mario ISOLA: Difficult question, because, as Mattia said, during FP2, which is the most representative for us to collect some data, we had two red flags. In terms of delta lap time between soft and supersoft we saw something like 0.8s, 0.9s per lap. It is a bit more than we expected. Our estimation was 0.6, but more or less in this range. We know that the medium is not going to be used during this weekend. The temperature is very high, so degradation will be a key factor on the supersoft, especially on the supersoft, but we don't have a number now. The number of pit stops will be dictated by the degradation of the supersoft. The tarmac is new. Last year the circuit was resurfaced. Very smooth, but very black. So the temperature is going up easily and we expect more than 50 degrees tarmac on Sunday, so it could be quite a challenge.
Q: You've done a lot of analysis since Ferrari had their tyres problems at Silverstone two weeks ago. Can you just tell us about the conclusions you have drawn and whether or not they were freak incidents? 
MI: We made a lot of analysis to be sure that we were not underestimating any potential issue on the tyres. So we didn't want to say anything about Vettel's tyre, because we saw together with Ferrari the loss of pressure starting from Turn One since Sunday afternoon. We wanted to take some time to analyse deeply both the tyres. We saw two different failures. One was a puncture. The conclusion was, on Vettel's tyre, that it was a puncture with a loss of air starting in Turn One and obviously at a certain point the construction is not able to support the load and in Turn 6 it failed. For Kimi, it was more difficult, because it was not clear at the beginning. The carcass was still in one piece. We had a part of the tread missing and we had two points in which the belt was damaged, on the inside shoulder. So we had to analyse not only Kimi's tyre but most of the tyres used during the race to exclude that there was any other potential issue. We can away with the conclusion when we were 100 per cent sure that we didn't have any other issues. I cannot say it was debris or an impact or something like that because I don't have the evidence but the evidence is that we have the belt that is damaged in two specific points and the rest of the tyre is still OK, but Kimi had to stop to replace the tyre, so this is the result of the investigation.
Q: Fred, welcome back. Hefty accident for Pascal this afternoon. Just a word on his condition and also the state of the car? 
Frédéric VASSEUR: It's a bit too early to have a clear conclusion on the reason of the accident, but we will do the investigation. The monocoque looks OK, but we have to investigate a little bit more. I left the garage straight after the end of the session.
Q: You've been in the new job, team principal, for just a week or so, but it's been a busy week. I just wondered if you could talk us through the reasons behind the switch from Honda power in 2018 to Ferrari power? 
FV: Yeah, Sauber and Honda signed a memorandum of understanding a couple of weeks ago but things move forward quite fast in our world and I think that the situation was a bit unclear also regarding the collaboration between McLaren and Honda and on our side the engine supplier had to find a solution for the gearbox. We had a deal with McLaren and the situation was a bit more complicated. On the other end, the collaboration with Ferrari is based on a long-term relationship and we had the opportunity to discuss with Ferrari to get the new-spec engine and I think it was a good choice and we found a mutual agreement with Honda to stop the collaboration.
Q: Just to confirm, it will be a current-spec Ferrari engine that the team has…
FV: Not the current one, the next one!
Q: Exactly! Just to finish, I know you have only been there a week but I'd love to get your thoughts on Sauber as a team, both in the short term and in the long term?
FV: The short term, that will be difficult to achieve something – it's a long-term project for sure. But I think the basics are there. The facility is impressive compared to the other teams. I think we are in a good move. The wind tunnel is a good one and the team, I think that Sauber is still in F1 an iconic name and there is a real team spirit, quite comparable to the team spirit I had last year at Enstone. Everybody is really dedicated, pushy, and now that the financial structure is stabilised I think we can have some hope for the future.
QUESTIONS FROM THE FLOOR
Q: (Roksana Cwik – SwiatWyscigow) A question for Mr Vasseur. When you brought Robert Kubica to Spa and he drove the RS01, did you think he would be here?
FV: No, at this stage he did some test sessions in the simulator before. I tried to help him for different reasons. We had the opportunity to do a race in the RS01 in Spa. He did it and he did a good job, but it's not my project anymore!
Q: (Dieter Rencken – Racing Lines) Question to Fred, I wonder if you could clarify exactly what your position is please? Are you responsible for the total Formula One programme, including marketing, sponsorship, whatever, or only the sporting side. And if not, who else reports to Mr Picci?
FV: My position is quite clear, that I'm the CEO of the company and team principal. It means that at the end of the day I am in charge of all the departments.
Q: (Peter Farkas – Auto Motor) Mattia, this track might be a completely different story but in the last few races we've seen Mercedes maybe gaining a bit on Ferrari. Do you think it was because there has been some decisions like the restrictions regarding the floor or engine oil burning, or just because you're at different phases of development during the year and it will ebb and flow between you?
MB: I think that each race is different to the others. There have been races at the start of the season where we have been competitive and others where Mercedes has been competitive. If you look, for example, Bahrain very early in the season, they have been very competitive in qualifying, we have been in the race. I don't think that there is a clear tendency and a clear trend on the competitiveness of the two teams. Certainly the development is very important. That has to be done race by race. There are still many races to go, we are just half of the season and I don't see any reasons why this should be one trend or another one. I think that oil burning, as you mention, is something that is not directly related to Ferrari and the floor, honestly I don't think there is any impact on our performance.
Q: (Peter Farkas – Auto Motor) This is again to Mattia. We have seen that both of your drivers are now on their fourth turbochargers. Is it just normal as you are playing around with the element or is it cause for concern and now basically you are sure you will have to take a penalty later this year?
MB: Certainly it is somehow a concern in the fact that we had failure on the turbo at the start of the season and we have to replace them at the very start and you introduce very early in the season turbo number three and turbo number four. Having said that, we introduce as well in the following turbos some modifications for reliability. They are running well at the moment, so we've got all the pool at the moment that have been introduced but we've got all the mileage available on each turbo, so we are rotating them and, obviously it's our objective to conclude the season with the current pool of turbos.
Q: (Dieter Rencken – Racing Lines) Mattia, a lot of your motorsport and road car competitors are embracing Formula E with a vengeance. Could you see Ferrari ever doing that?
MB: That's something that sometimes we have discussed internally but no decision have been taken and honestly it's a decision that is not down to my responsibility. So, I have no clue and no answer for you.