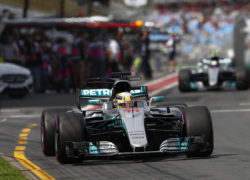 Free Practice 1
The 2017 Formula 1 season got underway at the Albert Park Circuit in Melbourne Australia this morning with Mercedes Lewis Hamilton picking up where Mercedes left off by finishing fastest in both Friday sessions.
Hamilton's fastest FP1 time of 1:24.220 was completed on Pirelli's purple marked ultra-soft tyres. Mercedes team mate Valtteri Bottas finished the session 2nd fastest just a little over half a second off the pace from Hamilton with a 1:24.803 also completing his fastest lap on the ultra-soft tyres.
Rounding out the top 3 was Red Bull's Daniel Ricciardo with a fastest session time of 1:24.886, 0.666s off the pace. His team mate, Max Verstappen was 4th fastest a little further off the pace with a time of 1:25.246.
Ferrari were 5th and 6th fastest with Kimi Raikkonen leading Sebastian Vettel. Felipe Massa back in the Williams seat finished 7th fastest ahead of Haas' Romain Grosjean in 8th.
Previous team mates, but now at different teams, Nico Hulkenberg and Sergio Perez finished 9th and 10th respectively rounding out the top 10.
FP1 started very slowly as all the teams eventually got settled into their Free Practice programs.
PROVISIONAL CLASSIFICATION: END OF #FP1

First practice session of 2017 = DONE#AusGP #F1isBack 🇦🇺 pic.twitter.com/mNQGxHTJlv

— Formula 1 (@F1) March 24, 2017
Free Practice 2
Lewis Hamilton once again topped the time sheets in FP2 for Mercedes as they continue with their early domination for the race weekend.
FP2 got off to a smooth start but just before 30mins into the session Renault's Jolyon Palmer lost the rear of his Renault at the exit of the final corner. He made contact with the outside barrier which bounced him back on to the track. The Renault sustained damage to the rear wing, rear suspension and the front left suspension. The session was red flagged to allow the marshals to clear the track.
Williams ran into issues after Felipe Massa ground to a halt with gearbox issues. Kevin Magnussen spent most of his session in the garage after his car developed a water pressure issue. He was able to go back out but was immediately called back into the pits.
Marcus Ericsson's session ended prematurely as well after over-steering into the gravel at Turn 6.
Ferrari appeared to have made some progress from FP1 after Vettel was able to finish 2nd fastest but still more than 0.5s off Hamilton's pace and just narrowly finishing faster than Bottas.
Red Bull finished 5th and 6th with Ricciardo ahead of Verstappen.
In the mid-filed battle it looks as though Toro Rosso has the early upper hand ahead of Haas with Renault not far behind. Force India seem to be struggling slightly but are looking solid.
It's a bit of a mixed bag for McLaren at the moment with Fernando Alonso finishing 12th fastest with Stoffel Vandoorne down in 17th position.
Mercedes have the early advantage after the Friday sessions in Lewis Hamilton. FP3 should give us a better indication where things stand. Whether Ferrari and Red Bull are sandbagging is a question that everyone is asking. It's still too early to call it but we do know that it looks like Hamilton is picking up where he left off.
PROVISIONAL CLASSIFICATION: END OF #FP1

First practice session of 2017 = DONE#AusGP #F1isBack 🇦🇺 pic.twitter.com/mNQGxHTJlv

— Formula 1 (@F1) March 24, 2017
Photo Credit: Mercedes AMG Petronas Formula One Team