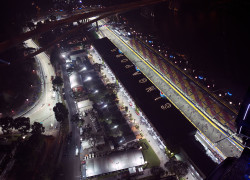 We being the final round of the fly away races and we kick off with the 2016 installment of the Singapore Grand Prix.
The Marina Bay Street Circuit winds its way through parts of Singapore passing notable landmarks such as the City Hall, the Singapore Flyer, and the Fullerton Hotel. The 23 corner circuit is the toughest on the Formula 1 calendar. Drivers loose between 3 and 4 kg's of during the course of the race such is the physical and mental strain placed on the driver.
With it being a street circuit, the barriers lie in wait for any driver with the slightest lapse in concentration. Just like in Monaco, an incorrectly placed wheel could see the end of the race for the driver.
The safety car has made an appearance at every race since the inaugural event in 2008. There's a very good chance that we'll see the safety again again this year.
Pirelli have brought the soft, super-soft and ultra-soft compound tyres to the Marina Street Circuit. It will be the 4th time this season that we'll see the purple marked ultra-soft.
The slow nature of the street circuit places an emphasis on mechanical grip. Degradation tends to be on the low side. Track temps are more constant at night in Singapore so thermal degradation is expected to be on the low side.
The weather for the rest of the weekend is expected to be clear in the evenings for each of the sessions from Friday through to Sunday.